"Downtown Northampton 2008"
Northampton has the best police force. Our
officer's have high standards to keep. It's what
makes the NPD so unique. Officer Wigmore is
in full costume and on bike patrol today. Our
Officer's routinely patrol the Main. You guessed
it, Officer Wigmore wears his costume year round!

Hotel Northampton & Wiggins Tavern.
Every Sunday is Sunday Brunch
the food is great!
Conveniently located on the corner of
Main Street, downtown Northampton!

THORNS...the place to go in Noho!!
30 Plus Shops and restaurants inside.
An enormous marketplace!
Find just about anything in the shops
and boutiques or enjoy a great meal!

Downtown Northampton Oct 31, 2008
"Halloween in Downtown Northampton"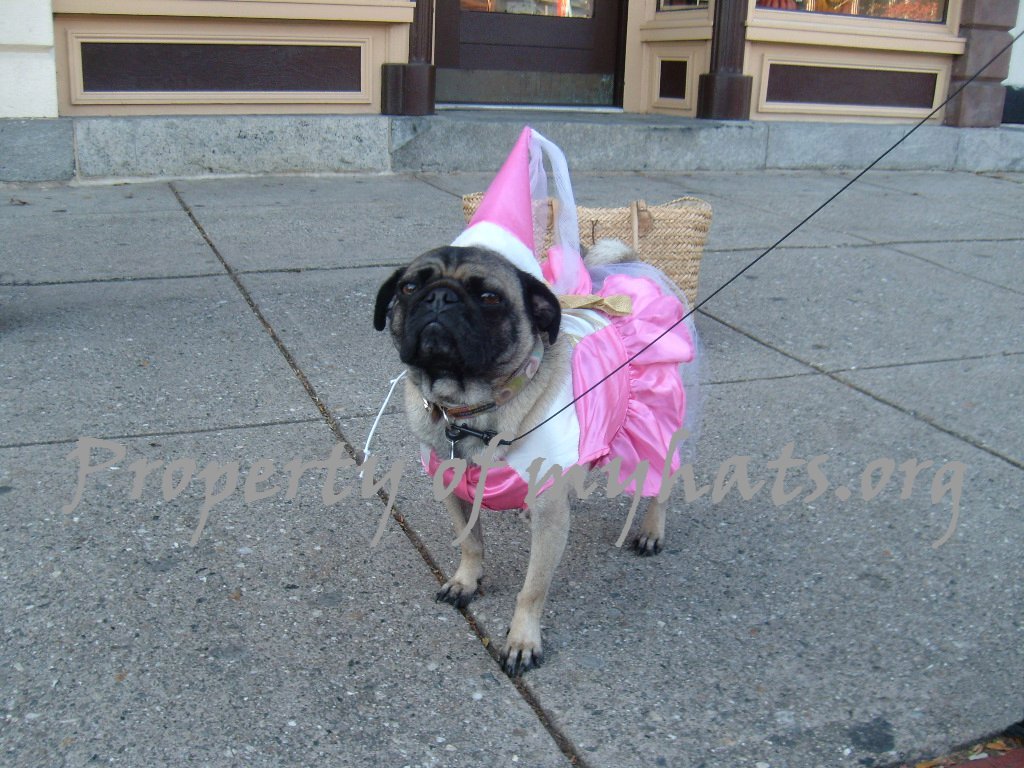 So it's Halloween and so much for the sit pretty, get treat. Today if I wanted a treat I had to follow suit and put on the pink suit. Just call me cooperative. Hey, I'll do anything for a treat, but I wasn't shaving my legs for this...put my paw down on that. I have limits! Gotta say I'm kinda liking the attention! I am kinda cute huh!
Every year on Halloween the downtown is the place to be for safe trick or treating for the public. Participating merchants hang an orange sign in their window to let the ghosts and goblins know that there's candy waiting inside. Changes Salon is just one of those merchants. When you enter you are greeted by staff in costume behind a big bowl of candy. The kid's say trick or treat and there's no tricks. Everyone gets a treat. Mom's and Dad's wait outside and the kid's leave with a smile. Check back for way more trick or treater's from Halloween in Downtown Northampton. The streets were full to capacity. I got lot's more pics for you to see.
Downtown Northampton Oct 31, 2008
"Halloween Picture Gallery"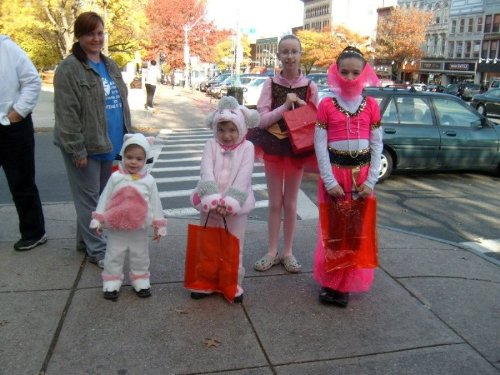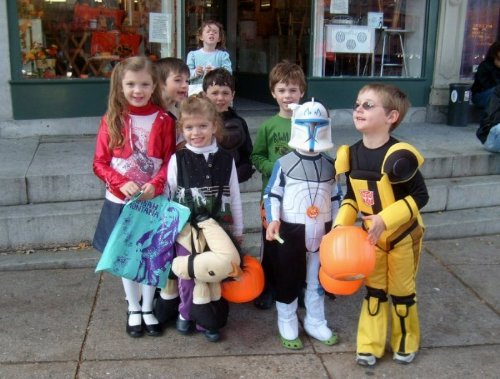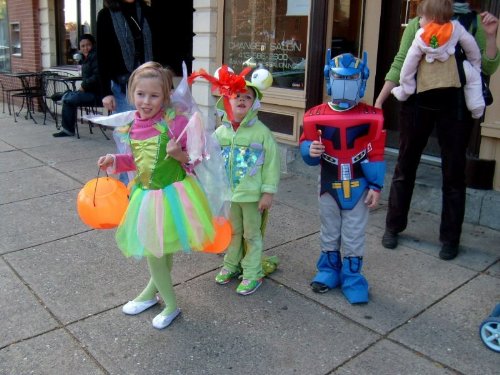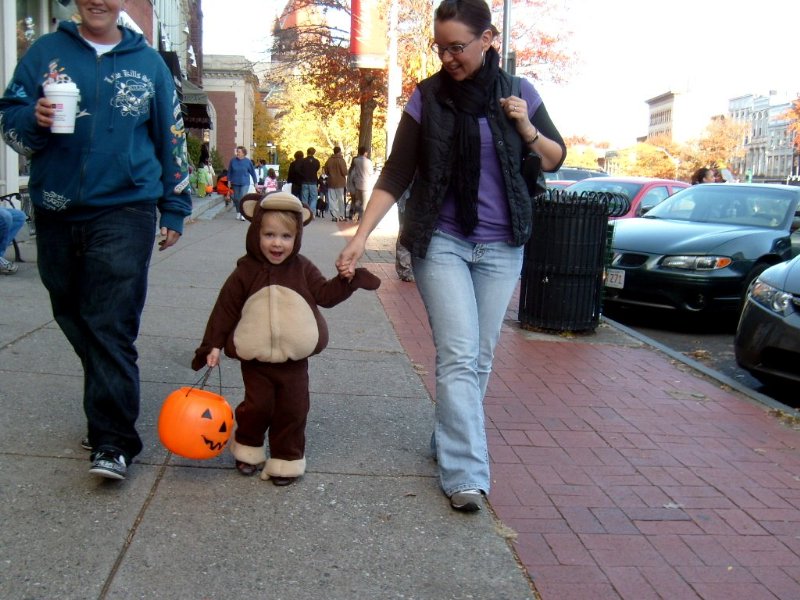 That's All Folks...As the Trick or Treater's depart it's bye-bye till next Halloween!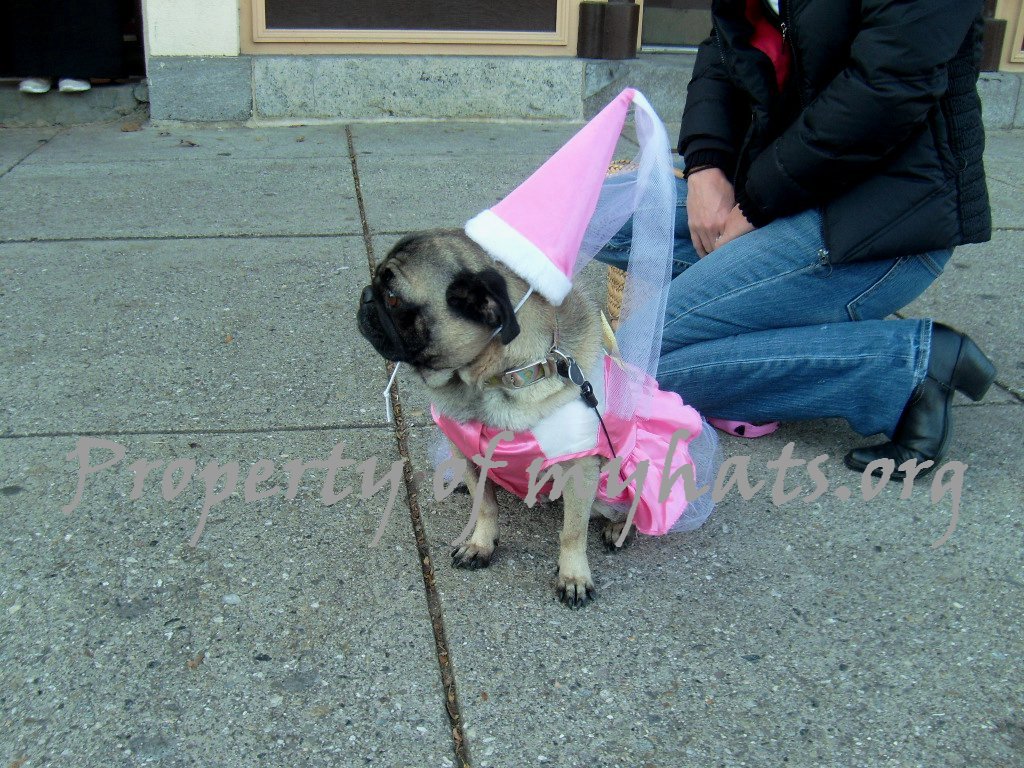 Yep...There they go...Hey...I'll be back next year too...Maybe I'll get lucky and find someone to pick a bone with!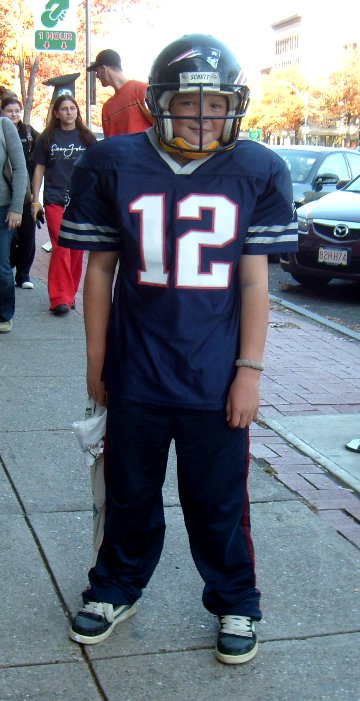 Go PATRIOTS!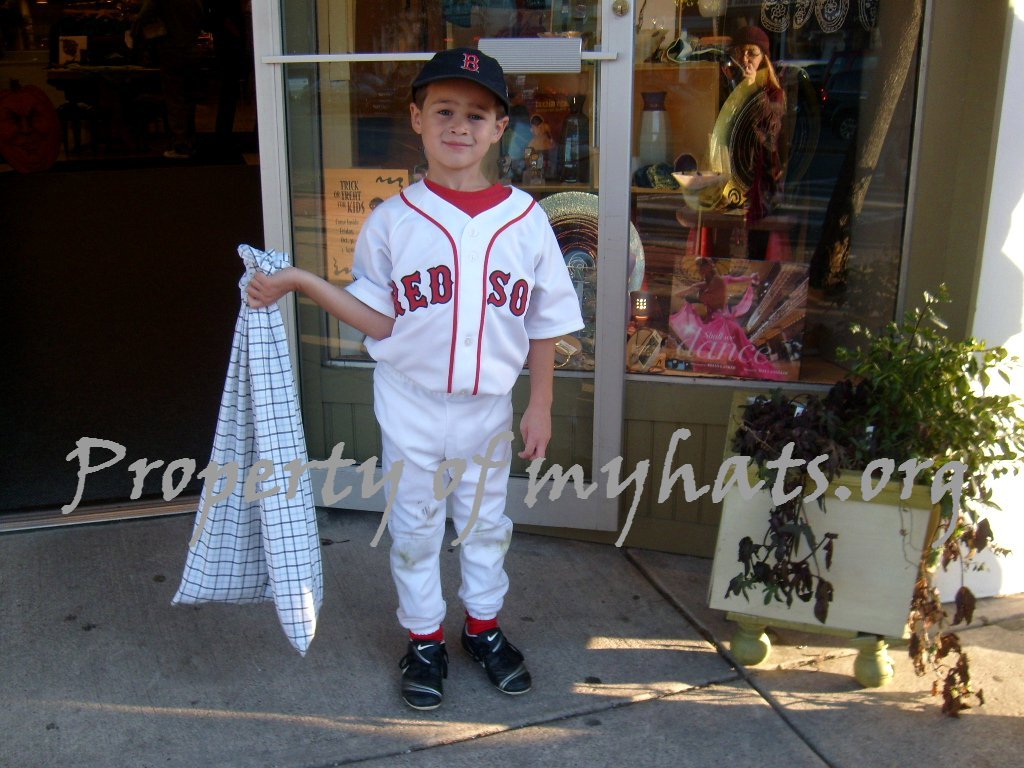 Go RED SOX!
What's so nice about Noho is that you can do anything you want any time you want as long as you're not breaking the law.
The people of Northampton have figured out how to keep crime out by just not letting it in.
Northampton is essentially a crime free, safe and comfortable place that people want to be.
People who live here can go any area they wish, dress as they wish, and just plain be who they wish.
Police and Public Safety Downtown Northampton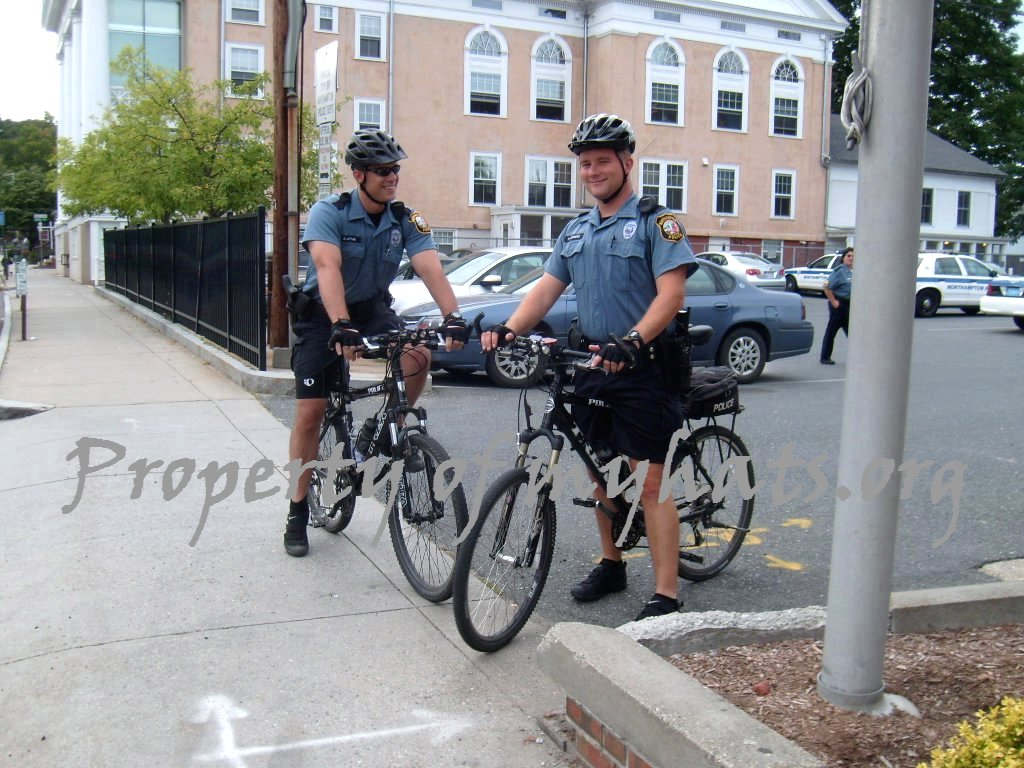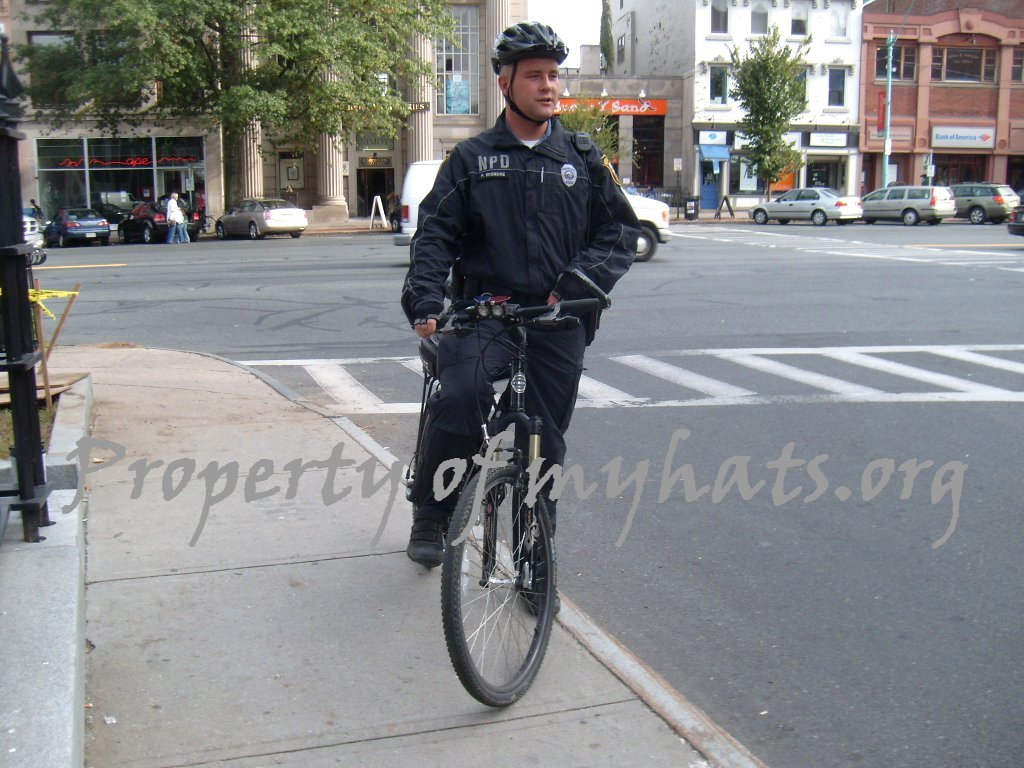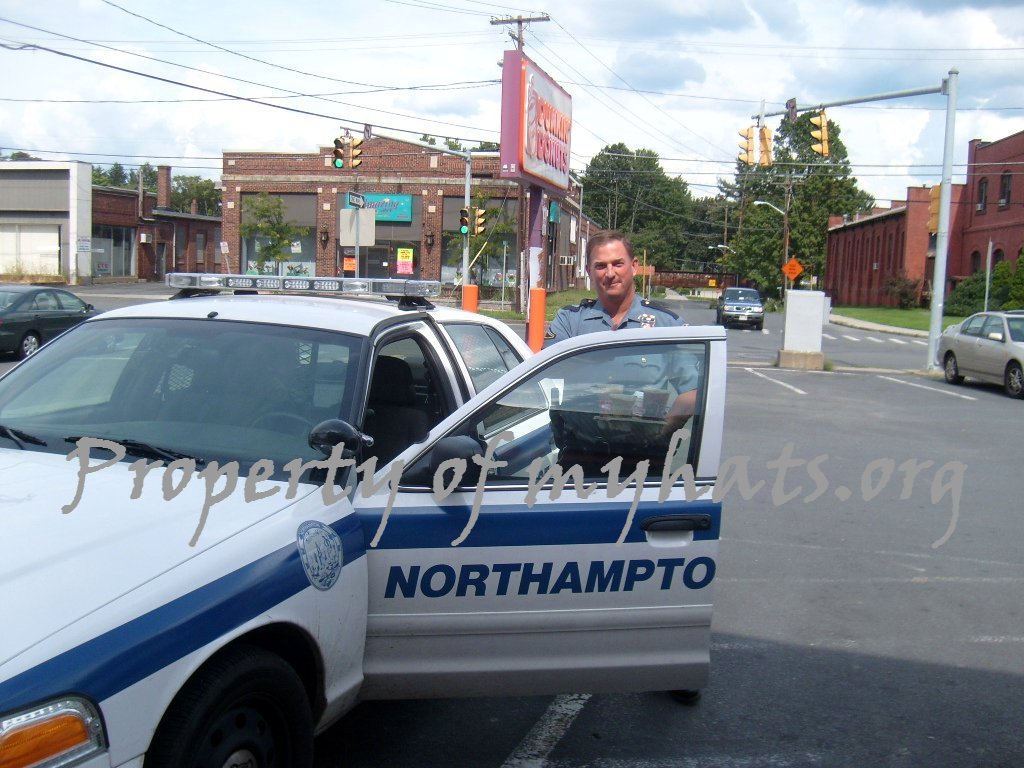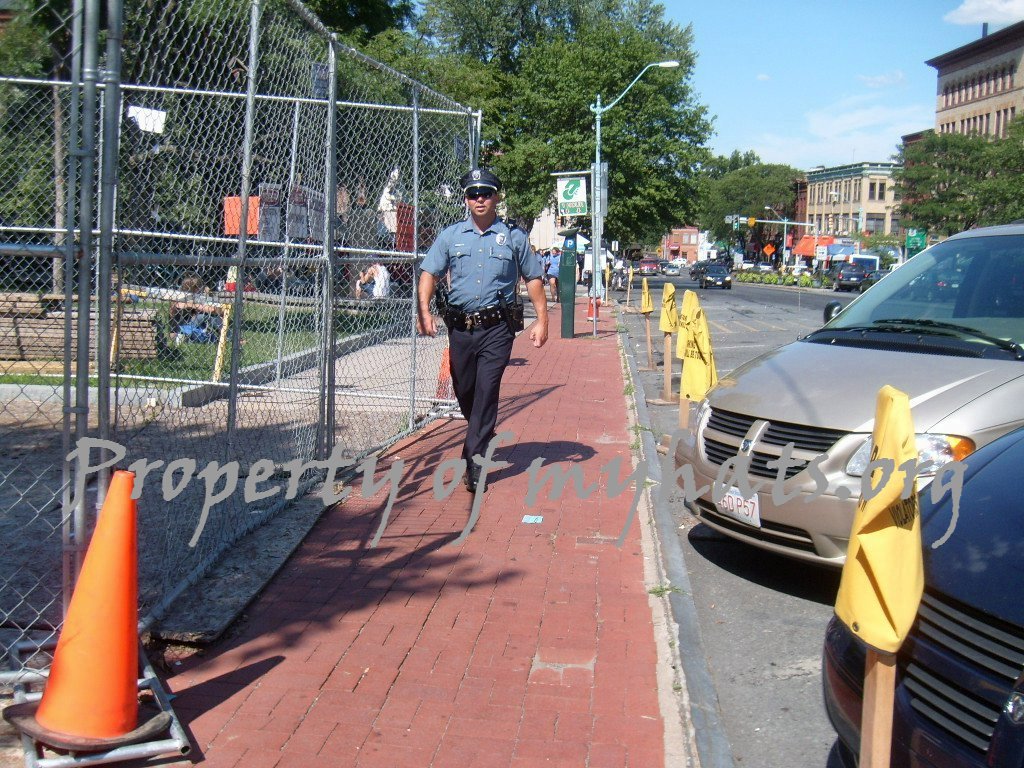 Downtown is always monitored by foot patrol. While there are no fences around the town, it's one of the safest towns to reside or visit. Our great public safety is to thank. While our officer's keep to the high standards demand of their job, at the same time they'll take time when an innocent bystander, (that would be me) armed with a camera, by chance, passes by and wants a pic with a smile. Or could it be I caught them goofing off? Well, check it out. Do you see any peddle to the sneaker there? In harmony with the responsible taxpayer's duties, I am mandated to blow their cover, that's Officer Liptak on the left and Officer Wigmore on the right. Now if you too are a responsible taxpayer...or the Chief, you got the evidence and you know what to do. Next, Officer Wigmore is on bike patrol. Yep that's him again, still sitting only now he's got a coat on. Same difference huh. Kinda like six to one a half dozen to the other. Moving on, that's Officer Nichols trying to hide a full tray of coffee behind his patrol car window (It didn't work...I can still see you). Where there's coffee, there's Officer Nichols. He takes his coffee calls very seriously, so seriously he always' carry's a gun when answering caffiene calls. Don't wanna mess with him when he's getting coffee. In the last pic is Officer Borowski. He's doing double time to cover while Officer Nichol's is busy at Dunkin' Donuts and Liptak & Wigmore make sure their bike's don't fall over and get scratched. Officer Bowrowski is patrolling the sidewalks during the sidewalks sales, but no shopping for him. Don't think I want that job! The bike patrol works with the foot patrol to cover the busy downtown.
If you visit Northampton...I guarantee you you will have just as much fun as I do everyday. Noho is the only town I have ever lived in that I never want to leave!
To all our officers of the Northampton Police force...thank you for your dedication and service and for helping to keep this town an enjoyable and safe place.
Pedestrians and Parking Downtown Northampton Hampton Ave.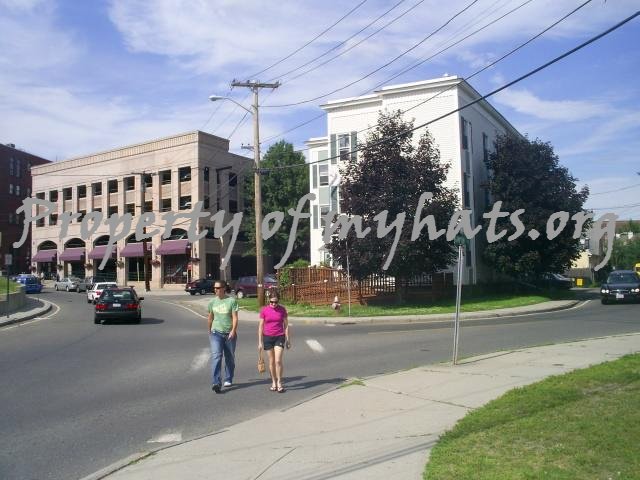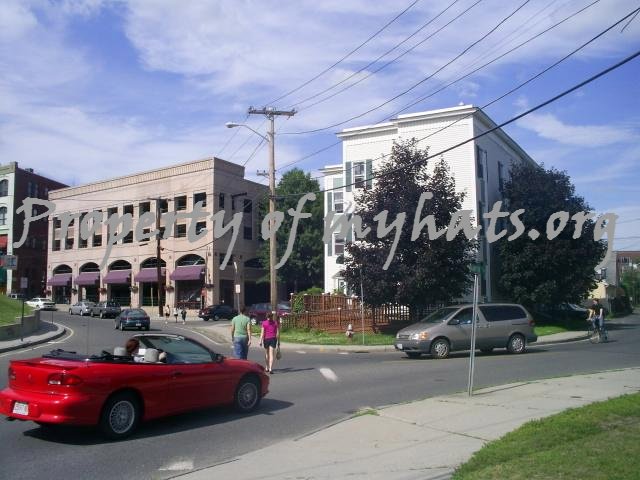 These two ladies are returning from a fun time in downtown Northampton, and as they hit the crosswalk to head home...Boom! they quickly change their mind and their direction for a 30 second walk to the ice cream parlor "Herrell's".
Northampton is all encompassing with everything necessary to fulfill the most insatiable thirst for the ultimate social time! The parking garage is right behind the Ladies. To my right (which of course you can't see) as I take this pic is another large parking lot. Many people worry about coming to Noho, because of parking, well the parking here is way plenty enough! You just need to know how to find it, and it's easy because it's right behind the biggest marketplace in Noho,
"THORNS Market", central main street, right in the heart of Noho!
The parking garage you see in the pic has a walkway right into thorn's market and THORNS is also equipped with an elevator.
Contact: info@myhats.org