"Downtown Northampton 2008-2009"
Northampton has a well staffed foot patrol. They
They routinely patrol the downtown area.
Left, Officer Borowski...Right Officer Digiammo.
Even in the bitter cold the foot patrol is out in the
same force keeping the streets safe for everyone.
The downtown area welcomes their presence.

Hotel Northampton with Wiggens Tavern.
entrance all lit up for the holidays!!
Conveniently located right on the corner of
Main Street in downtown Northampton!
In the warmer weather an outside cafe takes the
place of the sleigh full of presents.

THORNS...the place to go in Noho!!
30 Plus Shops and restaurants inside.
Trimmed with decorative lights and a way huge
holiday wreath. An enormous marketplace!
Looks like the shopper's are shopping with
cold cash these days, or maybe cold credit cards.
Check back soon to see All of New Year's Eve First Nights 2008-2009 replace 2007-2008
Downtown Northampton Dec 31, 2008-Jan 1, 2009
"New Year's Eve 2008 into the New Year 2009"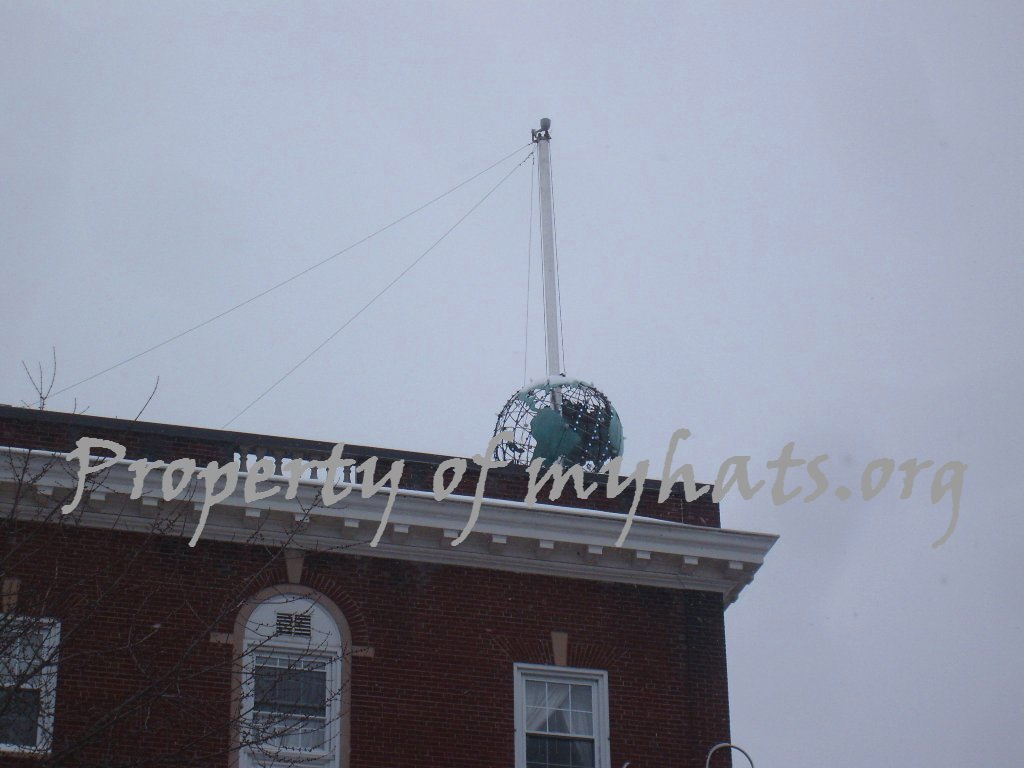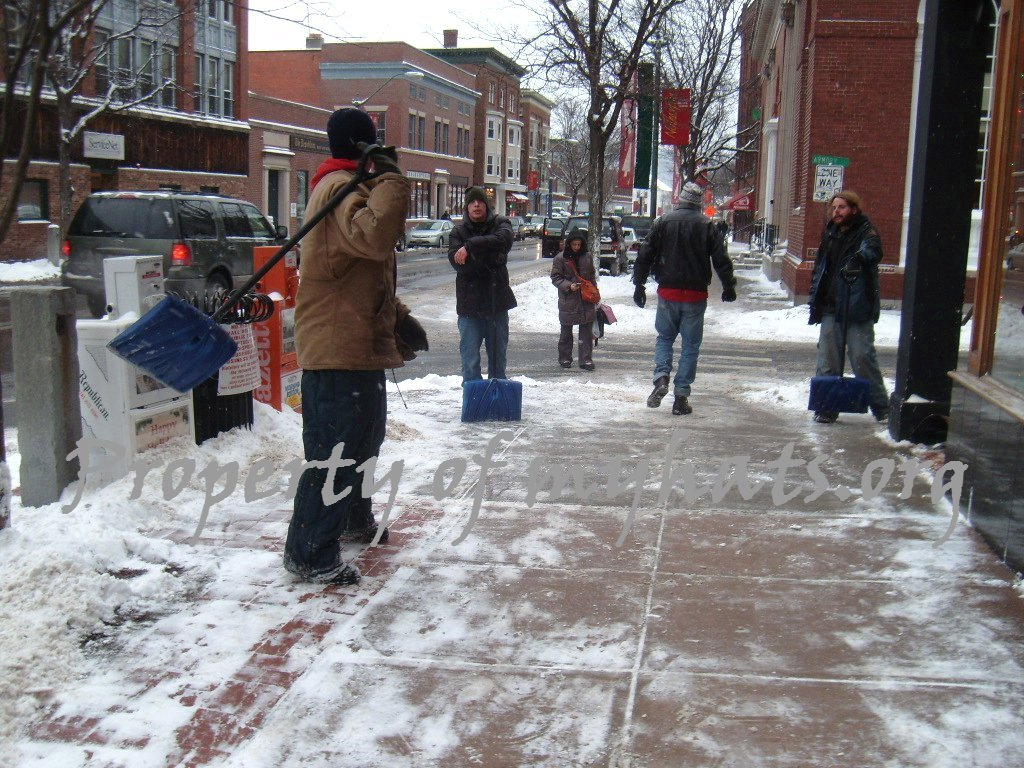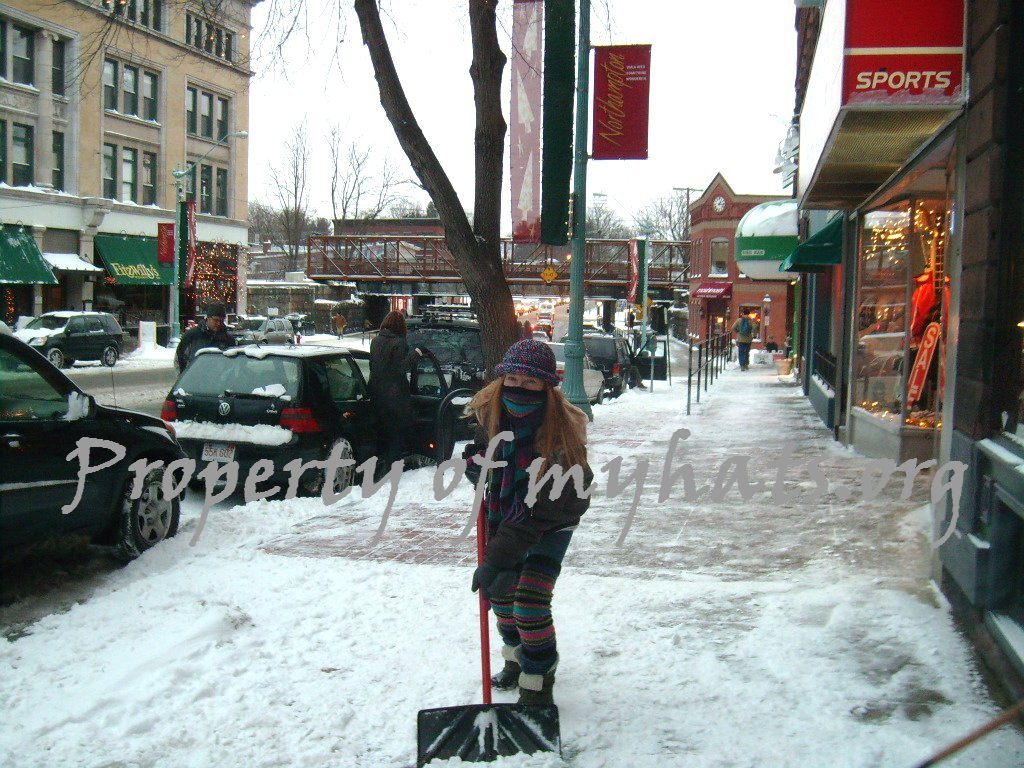 It was absolutely, incredibly, unbelievably bitterly cold on December 31. It snowed all day till about 3:00PM. The day started out at a high of 24°. That's the snow covered globe waiting for midnight. Merchant's hired hands celebrated with shovels. In route to my first event I had fun capturing pics of the shoveling crews. They had a different idea of fun. Yep, that's right, they traded my camera for their shovel. Well that lasted just long enough for one pic...uh huh, that's me all bundled up pushing a shovel. Not for me. I quickly reversed the trade and was on my way. Hey, these guys are getting paid and volunteer shoveling was not on my agenda!
So I'm on my way now to the events. Had to stop first to support my local farmers and what could be better than hot chocolate made by a cow! First Night begins at Noon and most of the events are set up for the kids. From Found Sounds" on Djembe drums are Ellen Clegg (left) and Victoria (right). Set up in a circle were chairs for everyone with their very own drums and drumsticks so they could play right along. Mom's and Dad's with their kids participated to drum up the fun!
Down the street and up on a hill, inside a snow covered Union Station, I found the O-Tones. This group performed two shows from 4:00PM to 5:45PM. With guitars, a saxophone, a keyboard and drums with cymbals, the O-Tones performed selections of Jazz, Swing and R&B Motown. A content crowd enjoyed!
From 4:00-5:45PM, inside the newly renovated First Churches Sanctuary, the room was filled with family's gathered for the José Gonzalez Family Musical Fiesta. They sang in english and español with songs that included the audience in sing-a-longs. The show was geared towards children and they were having a great time!
And from 4:00-5:45PM just downstairs in the First Churches Lyman Hall, "Just Harmony" performed Songs of Justice, Peace and Freedom. Across the street at the A.P.E windows gallery, WHMP was set up airing live music for the radio audience that didn't want to come out and brave the nearly single digit temperature. Over at Memorial Hall "Acoustic Brew" entertained a crowd with country tunes. It's 5:30PM and there's just enough time for one more stop before the fireworks.
There's many more events from 4:00-5:45PM than what you see on this page. This is the last one I checked out today before heading off to the fireworks. Inside Memorial Hall, it's Ed the Balloon Man! Ed Popielarczyk is a professional magician, balloon twister and entertainer. Ed has been entertaining audiences for over 25 yrs. His specialty is performing magic for children and family audiences and his balloon sculptures relate to all ages. Everyone loves to watch someone sculpture something from a balloon and after being entertained you get to keep his balloon art! Along with entertaining at parties, Ed also holds workshops to teach kids magic and balloon sculpting. Audience participation is a must in Ed's show because the kids help to make the magic happen! Ed's is local...website edpop.com
It's 6:00PM and at 6:15PM fireworks will light the sky as they rocket from the top of the parking garage behind Thorn's Market on Main Sreet. The steps of the First Churches" and sidewalks fill quickly with warm friendly people, shoulder to shoulder making the area nice and cozy warm just in time for the show. When the show's done, the people are off and on their way to more First Night events. There's still lot's going on so there is no reason to stand around waiting for midnight.
At 8:00PM I heded over to the Academy of Music. The Academy of Music seats hundreds and every seat was taken. I got in just to take pics. I couldn't see much from a distance but my ears quickly figured out why every seat was taken. Performing was Zoe Darrow and the Fiddleheads and they were incredibly great. I wanted to sit and listen, but it was take pics and leave for me. Worth every cent if there was a price to get in. The applause for this group could be heard outside.
At 8:15PM I went over to the Lyman Hall First Churches to find a group called the Trina Cheile. This group of four consisted of a guitar, harp, drums and a cello. Nice combination, beautiful music and rounds of applause from their audience. Then over to the Edwards Church to find The Valley Jazz Divas. The church was filled to capacity. The instrumental was outstanding and the vocalist's were dynamic. A talented group entertaining what looked to be a very content audience.
It's 8:30PM and I'm movin' on over to the Center for the Arts. News 22 was between their van and the cold sidewalks most of the night. It's only 11° and there were a lot of people on the sidewalks but they were moving right along, just like me. Ah, I'm inside the Center of the Arts and it's nice and warm and so too was the atmosphere with Johnny and the Flashbacks performing while people rocked to the music. First Night in Noho is organized and run by the Center for the Arts.
At 9:15PM still inside the Center for the Arts, The Black Rebels took over the stage. Then back out in the cold and over to Lyman Hall where I got to hear Greg Alexander sing some mellow music accompanied by his guitar. Next, over at the Unitarian Society who else but almost Elvis himself. Elvis Encore with Lord Russ. If you weren't looking at this guy you would be convinced he was Elvis Presley himself. He performs every year for First Night and sounds exactly like the King.
Below is 2007-2008 Soon to be replaced with 2008-2009...Check back!
11:50PM and the center of Northampton is quickly blocked off to traffic. It's a pedestrians dream!
People crowd in and gather in front of the Hotel Northampton. The ball that sits on the roof will rise in less than 10 minutes.
It's 11:59:50PM and the ball is rising and the crowd is counting down 10, 9, 8,...Happy New Year 2008!!!!!
That's all folks! The streets empty out quickly. The News teams are out of here. Everyone had fun bringing in the New Year and the street sweeper's are cleaning up the fun. If you didn't make it this year, there's always next year. Hope to see you!
Happy Anniversary Dad 12/31/56.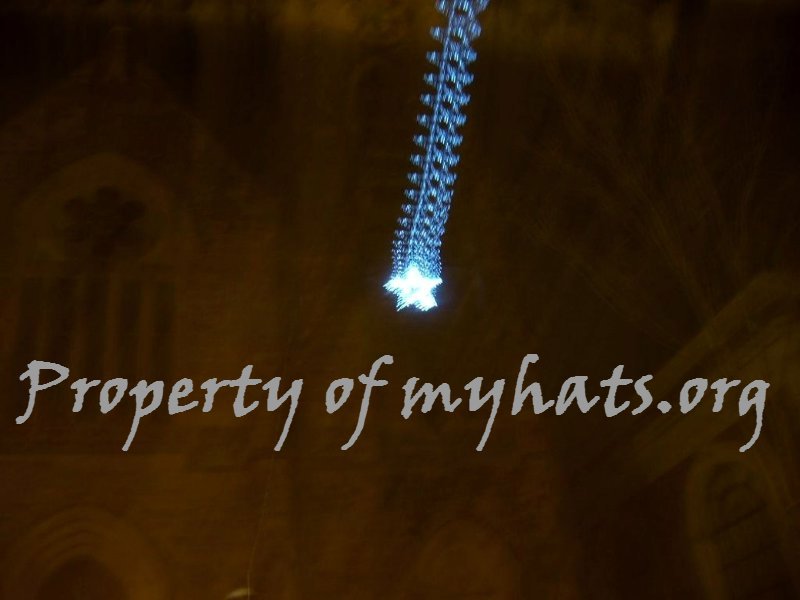 Police and Public Safety Downtown Northampton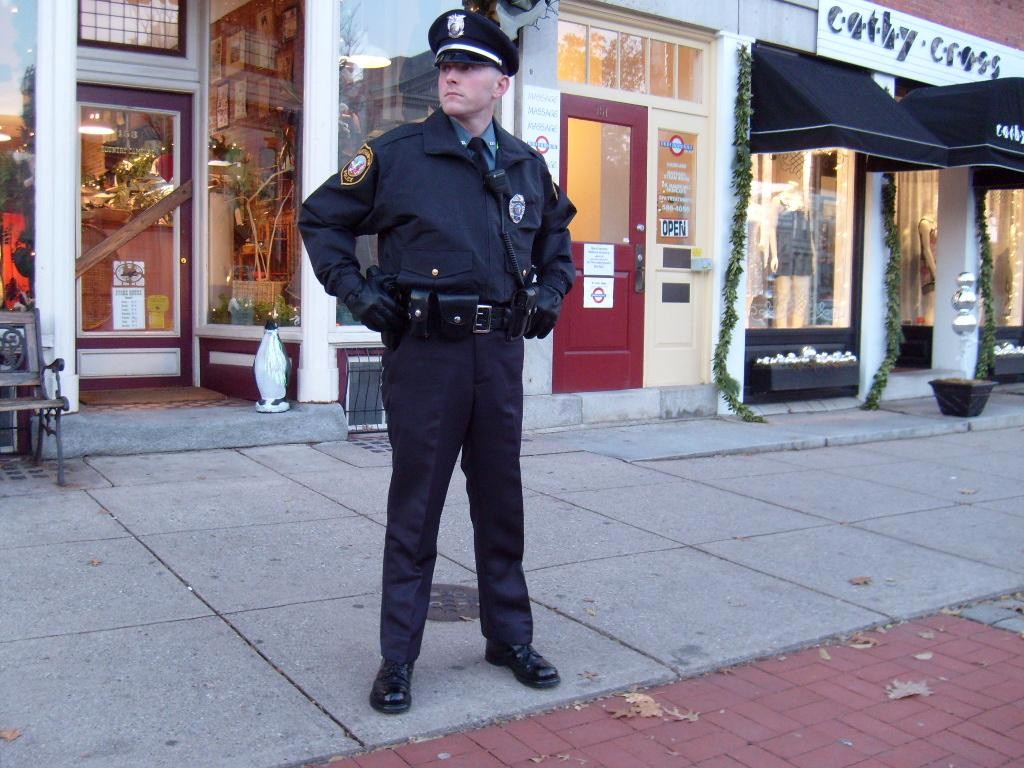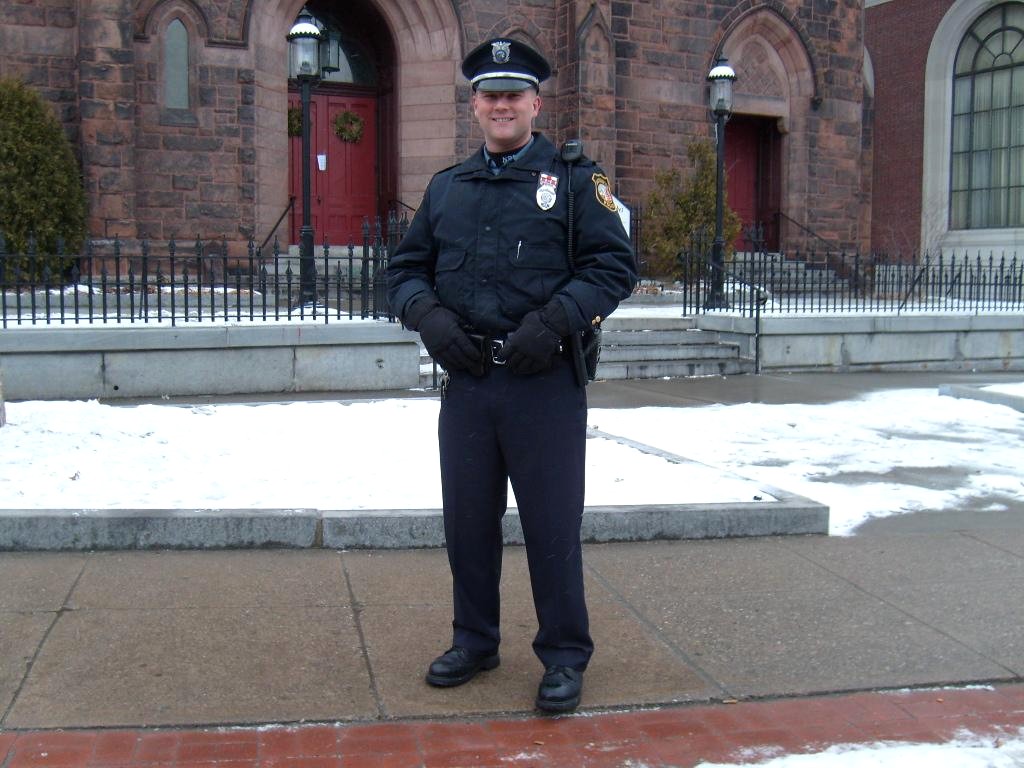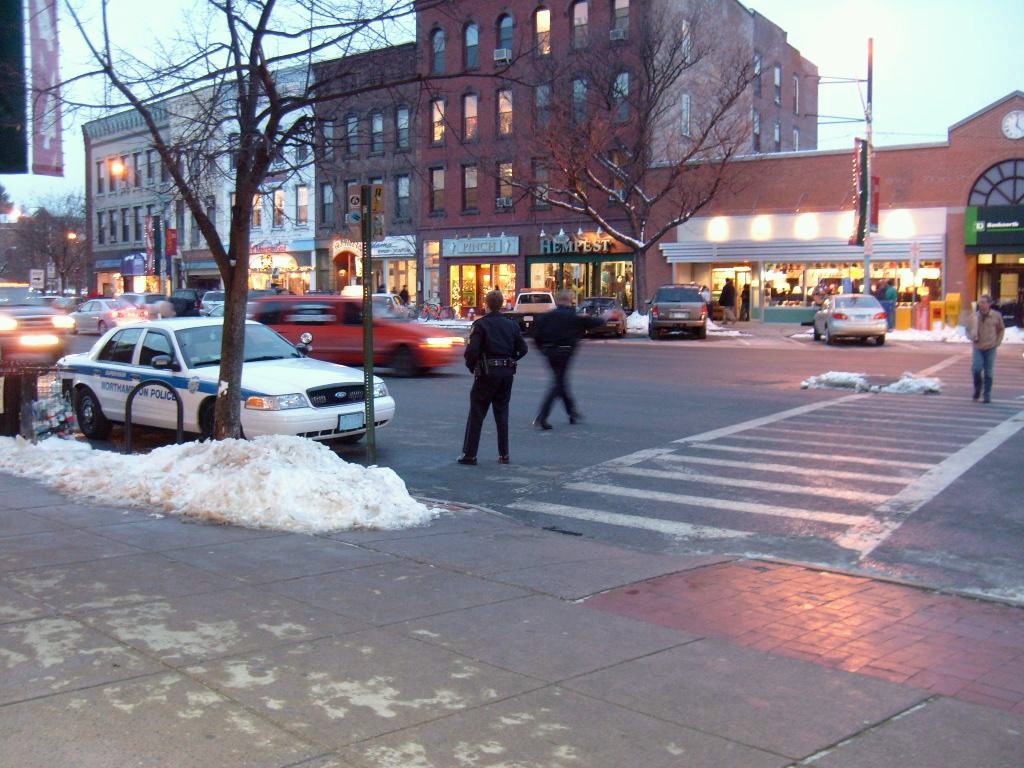 Downtown is always monitored via foot patrol. While there are no fences around the town, it is just one of the safest towns to reside in or visit. Our great public safety is to thank. On the left is Officer Kohl. A little further down the street on the corner is Officer's Borowski and Digiammo. Not fighting any crime today but certainly fighting the cold is Officer Wigmore on foot patrol. If you come to Northampton the streets are loaded with crosswalks. It's a pedestrians world. Every now and then the officer's set up at the crosswalks. That's Officer Kasper and Officer I don't know his name, sorry. I don't think they give tickets but they do give gentle reminders about the crosswalk laws. Oops, hey there taxi you can't make a U-turn in the middle of Main, well at least not in front of two officers.
I love to make up stories to go with the pics of our Officer's. The fact is, our town is what it is, awarded "Best Small Arts Town" and in the top 100 year after year because our officer's do an outstanding job. It's not easy to be a cop in Noho. NPD has high standards for it's Officer's and our Officer's keep Noho ranking high!
If you visit Northampton...I guarantee you you will have just as much fun as I do everyday. Noho is the only town I have ever lived in that I never want to leave!
To all our officers of the Northampton Police force...thank you for your dedication and service and for helping to keep this town an enjoyable and safe place.
Pedestrians and Parking Downtown Northampton Hampton Ave.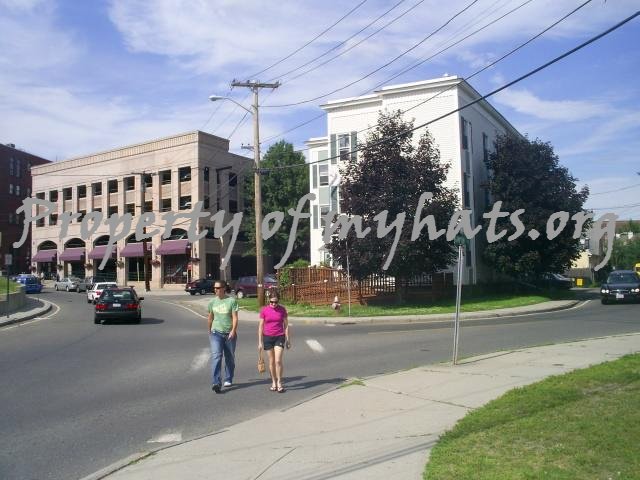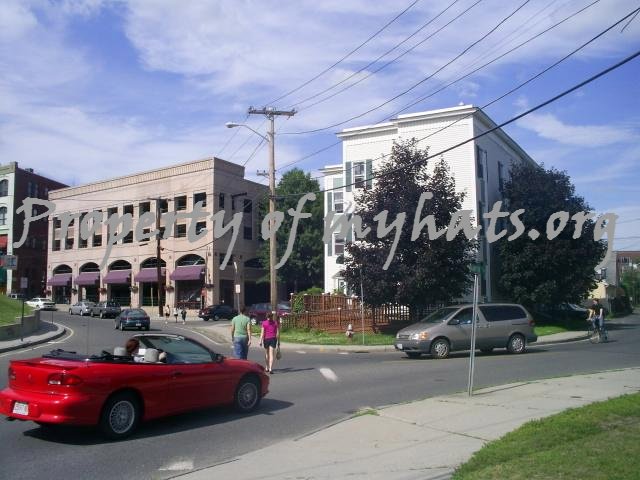 These two ladies are returning from a fun time in downtown Northampton, and as they hit the crosswalk to head home...Boom! they quickly change their mind and their direction for a 30 second walk to the ice cream parlor "Herrell's".
Northampton is all encompassing with everything necessary to fulfill the most insatiable thirst for the ultimate social time! The parking garage is right behind the Ladies. To my right (which of course you can't see) as I take this pic is another large parking lot. Many people worry about coming to Noho, because of parking, well the parking here is way plenty enough! You just need to know how to find it, and it's easy because it's right behind the biggest marketplace in Noho,
"THORNS Market", central main street, right in the heart of Noho!
The parking garage you see in the pic has a walkway right into thorn's market and THORNS is also equipped with an elevator.
Contact: info@myhats.org