"Downtown Northampton 2009-2010"
Northampton has the best police force. Our
officer's have high standards to keep. It's what
makes the NPD so unique. On Bike Patrol
is Officer Wigmore and on the sidewalk violates
the "No Bikes on the Sidewalk Ordinance"
Looks like Officer Booth is setting him straight!

Hotel Northampton & Wiggins Tavern.
Enchanted Evenings!
Currently happening.
Hotel Northampton is conveniently located
on the corner of Main Street
in downtown Northampton!

THORNS...the place to go in Noho!!
30 Plus Shops and restaurants inside.
An enormous marketplace!
Find just about anything in the shops
and boutiques or enjoy a great meal!

Downtown Northampton May 29, 2010
"Northampton Loses Mike Pellerin...Said He Would Sing 'Till the Day He Died...And So Did He"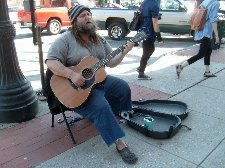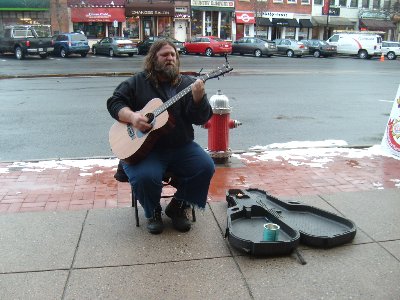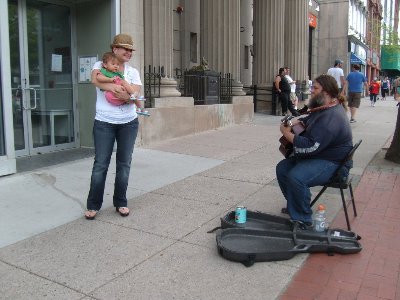 Not a day went by when you didn't see Michael Pellerin (Pellerand) sitting in his own personal chair he carried from his home each day so he could be comfortable while he sat and performed for the people of downtown singing his heart out. Music was his life. Year round, sun, rain, and cold snowy days, Mike appeared every day. Every day I went downtown, the first person I would check in with was Mike. I would chat with him and request my favorite Beatle's songs. He always sang one for me. I loved Mike, everyone did. I couldn't find Mike for a few days and today I found out why when I checked in with his empty chair, set up as a memorial appropriately signed by all who loved him. Not what I ever wanted to see, not what I ever expected. Mike was only 44. I fought back tears as I read.
Above is the story about Mike's life along with the titles to his CD he was so proud of and next are a couple of recent pics adorned with flowers and a poem. As people walk by, everyone stops. I don't think anyone expected there would be a day that we wouldn't see Mike. But that day came May 24, 2010. So it did.
Mike was a talented song writer. If you listen to the lyrics of his songs, you will see how he captures the reality of life, the reality of past events and how creative he was with expressing the important issues about those realities. Creative he was, for when you open his CD, you will find enclosed, a selection of leaves making his "Tree Of Life" CD artistically complete. When a tree dies, the leaves are left behind as a reminder of the Tree that produced fruit. All symbolic as Mike lived and died and left his memories all around the area he once occupied. He was clever and his knowledge about life can be heard in the songs he wrote. Here are a few of Mike's songs for you to listen to, and I urge you...listen carefully. Mike, I so miss you and forever will. The downtown will never be the same now that you are gone. Mike you loved Rock and Roll and I hope you are in Rock and Roll Heaven as that was your wish. Mike's favorite band was the Grateful Dead. If they were performing and Mike could get there, he was there. Now he gets to hear them live any time he wants. Here are a few of my favorite songs from his CD.
Forty Days and Forty Nights and Look in the Mirror
Mike's last song on his CD is titled "So Did I". This last song ends with lyric's "So Will I". Mike's life ended too soon. His CD ended with his message...His wish.
Music touched my spirit, freed my soul and cleared my mind...Music is a home to me until the day I die...
Music helped me find my way whenever I got lost. Time and space the object I don't care what the cost.
So if you see me on the road and wonder who I am, tell ya about Dwayne Almond, Stevie Ray and the Grateful Dead.
Rock and Roll Heaven is where I want to go. All my favorite Rock Stars play a never ending show. And if your heart is true we will go there when we die.
We will all go there together, turn our hands and learn to fly...learn to fly...learn to fly...and "So Will I".
I have no doubt's that Mike is in his Rock and Roll Heaven and his dream expressed in the last line in the last song of his CD, "So Will I", is now "So Did I"
*******************************************************************************************************
Downtown Northampton May 23, 2010
"Happy Birthday Dad"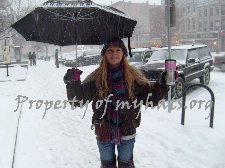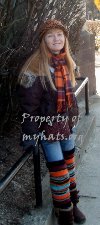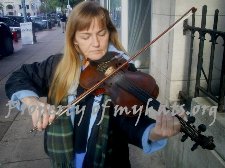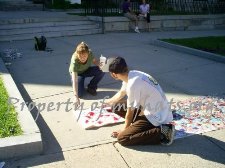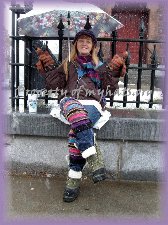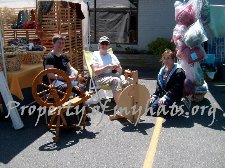 Hey Dad, I'm still in Northampton, I'm still having fun, I'm still making hats, I'm still taking pictures and I still miss you. Hope you can see this and Happy Birthday! I think about you every day & wish you were here, but you know that. In memory of the person I miss most in my life, My Dad May 23, 1932 - August 19, 2007.
Downtown Northampton Dec 30, 2009
"Here Comes the New Year...Noho Gearing up for First Nights"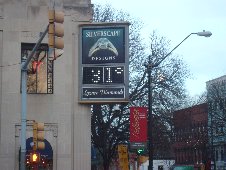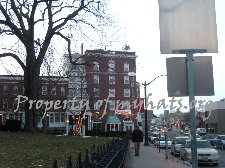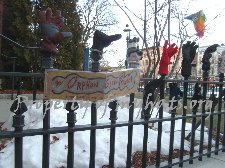 It's December 30 and it's going to be 31 degrees tomorrow with a chance of snow. That's warm compared to last year's record low of 11 degrees with 40 mile an hour winds. So we'll take a little snow. There's the ball up top of the Hotel Northampton being tested today to be sure everything goes off as planned. On the end there you can see "The Orphan Glove Project". If you lost a glove while in the downtown, you may want to check out the fence around the First Churches!
Downtown Northampton Nov 26, 2009
"Happy Thanksgiving from Northampton"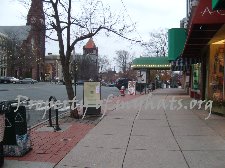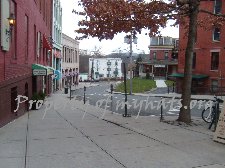 It's Thanksgiving and it's the only time you will see the streets of Northampton empty. Tomorrow, these sidewalks will be well packed with all the Black Friday Shopper's. I hope everyone had a great Thanksgiving Day whatever you did or however you celebrated. Back to the crowds tomorrow. Happy Thanksgiving!
Downtown Northampton Nov 15, 2009
"The First Churches Raffle in Advance for the Fair Saturday November 21"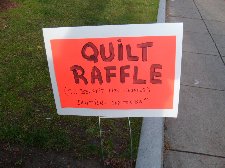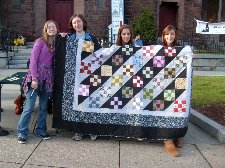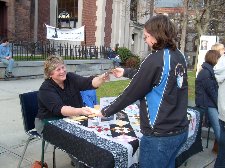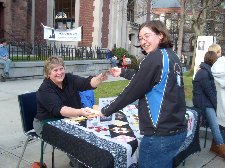 It's November 15 and the people from the First Churches are set up early to raise money for the Church Fair, which will take place Saturday November 21. They are selling raffle tickets for this beautiful handmade quilt. If you didn't get one, get down here Saturday and you'll help out a good cause. The annual Fair and Raffle supports First Churches' efforts to serve the Northampton community as a center for justice and arts activities where hundreds of people gather to hold meetings, discussion groups, dance and sing. More than 1,000 people use this historic building each week. Come on over to the Fair Saturday the 21st and check it out!
Downtown Northampton Nov 2-3, 2009
"Saying Goodbye in Style to a Downtown Northampton Main Street Icon"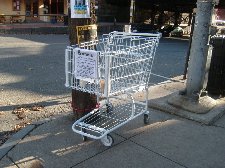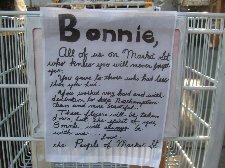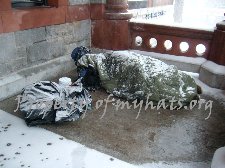 It's November 2 and on my way to the Post Office, a white shopping cart secured to a telephone pole with a woman taking pictures of it captured my curiosity. I thought it was just some different idea someone had to get attention, maybe for some event. So on my way back, I crossed the street to see what it was all about. As I got closer, I saw a sign on the front and once closer, I saw the name Bonnie. Once up close enough to read the small print, I found it to be an event, but not one that I ever wanted to hear about. One of my downtown favorite's, a person I looked forward to seeing every day on my walk had passed away. Bonnie was known to everyone downtown. She pushed a shopping cart equipped with a broom that she used to clean up the sidewalks of storefronts. She would fill the cart with bottles and cans and turn them in for refunds. Bonnie also collected clothing and other things that she thought could be used by people who had "less". It wasn't uncommon to see her in the Post Office on a regular basis with 4 or 5 huge boxes. She shipped her boxed collections all over the world to help the needy. The last pic will give you an idea of what kind of people had less than Bonnie as she had little more herself. She worked hard everyday and everyone will miss her.
Today, November 3, there was a big write up in the Daily Hampshire Gazette. The first pic shows Bonnie Ascher posing for photographer Paul Shoul on railroad tracks in downtown Northampton. Bonnie operated her shopping cart sun, rain, cold and snow. She never missed a day. The second pic was taken by Kathleen Duncan yesterday who captured me learning the news by reading the sign on the cart. I was heartbroken. I lost a great friend. A storefront was adorned with a copy of the pic of Bonnie and a copy of the sign containing sweet words of thanks from the people of Market Street where Bonnie lived. Today I found the same white shopping cart, still in place, but friends had added a broom, flowers and notes along with candles to light for Bonnie. Bonnie was a tough cookie. The paper was filled with comments from the townspeople who remembered Bonnie and I have something I'd like to add, and that is, as tough as she was, I remember one day that I found her engulfed in tears. I asked why are you crying and she replied, "I do what I can, I try to help and do my part and people can be mean and even though I don't have much, I have feelings." All I had to offer was a hug and a confirmation that those people were just wrong. I told her all the nice things people said about her and you know what I got? Bonnie smiled and said "Really, I didn't think anyone cared about me or even noticed me." I'll always remember that day.
Police Chief Russell Sienkiewicz
NPD

Bonnie Ascher left us on October 25, 2009.
She will live on forever in every heart she touched.
Quoting from today's Daily Hampshire Gazette, there was one person, Police Chief Russell Sienkiewicz who summed it up best, he said, "She was ornery on the surface but she had a good soul inside." Now her soul is in a different place and I'm sure she's pushing the angels aside so she can sweep the streets of heaven!
My Hat's off to you Bonnie!
Downtown Northampton Oct 4, 2009
"Singing in the Rain...Sun's Out for Halloween Tomorrow"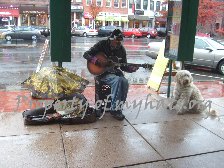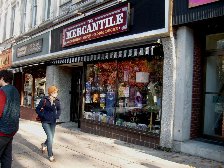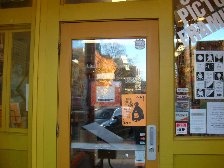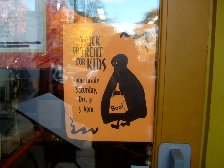 We've had a lot of rain this week but it doesn't stop the street performer's. If you visit Noho try to remember the homeless as they sing for their living. Next day and it's sunny and lot's of sun for tomorrow with temps in the 70's so they say. If you check the storefront of the mercantile, which sells great halloween costumes, you will see a little orange sign. Next door and it's a litte bigger, and a little closer and big enough to read. Tomorrow the merchants who have these orange signs in their windows will be passing out candy for the ghosts and goblins and whatever else in costume. It's downtown's way to offer a fun and safe way to trick or treat!
Downtown Northampton Oct 4, 2009
"Dance Yourself Silly!...Grand Opening"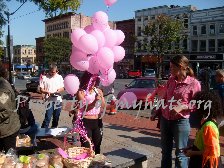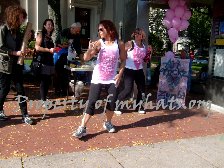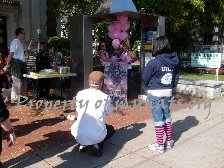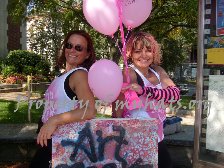 It's Sunday and there was a little entertainment in front of the Food Not Bombs table. The ladies were advertising their grand opening of "Art Rocks" by handing out flyer's and balloon's. Everything was pink, I like that! I got a demonstration from Mary and Roxy the founder's of Art Rockz. Looks like I'm not the only one trying to get pics. Too far away for me so stepping up closer, I got a bigger and better pic than that man in front of me. Mary is on the left and Roxy on the right. Their grand opening Open House is from 11-5PM on October 24 in the neighboring town of Florence. For more information check their web site ArtRockz.com.
Downtown Northampton Sep 21, 2009
"Fundraising for Cancer...Fundraising for Children in Nicaragua...Talk like a Pirate Day"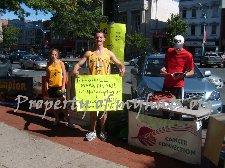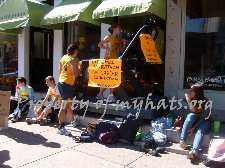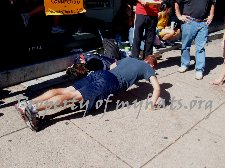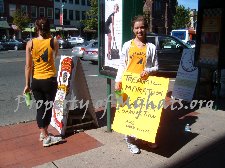 The Northampton High School Cross Country team was raising money for their team and the Cancer Connection. Student's were sponsored for mileage on the treadmill. Pedestrian's passing by could pay students 10 cents a push-up. Other's held signs and collected. Donations were split 50/50 and they all did very well!
Lot going on today. Just down the sidewalk, outside Faces, I met up with a pirate. Today was annual talk like a pirate day. If you talked like a pirate you got a scull and crossbones eye patch or a strand of the pirate's treasured pearls. Phyllis model's her eye patch for all. Down the sidewalk in the other direction was the annual book sale from the non-profit that raises money for children in Nicaragua. This year lot's people were buying books and the group surpassed their goal!
Downtown Northampton Sep 16, 2009
"Hotel Northampton Get's a Makeover"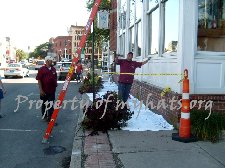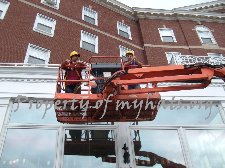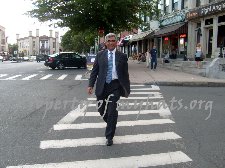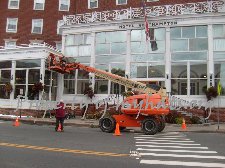 Hotel Northampton is getting a makeover. The guys are all set up and it looks for real, but really, do they look like they're working? I'm seein' hold up the tools and smile for the camera. Now they're up on that toy there so surely I'll get a pic of them working, nope. Oh no, here comes the owner just around the corner. And there you go, now they're working away. Looks good for the boss. Hey guy's wait till the boss see's these pics of what not to do when the boss is away! ;O)
Downtown Northampton Sep 7, 2009
"NAMI-WM Raising Money...Funding Research"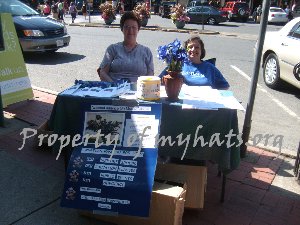 These two ladies were set up today offering informational brochures and collecting donations for NAMI-WM, which stands for National Alliance on Mental Illness where the -WM stands for the Western Mass division. NAMI is the nation's largest grassroots metal health advocacy organization dedicated to helping improve the lives of people living with a serious mental illness and their families. NAMI-WM is the largest NAMI affiliate in Massachusetts serving Franklin, Hampshire and Hampden Counties. The organization as a whole is dedicated to the eradication of mental illnesses and to the improvement of the quality of life to all whose lives are affected by these diseases. They hold events to raise money and one event, the Walkathon is their biggest fundraiser. Proceeds from fundraising go to Provide outreach, education, advocacy, funding of research and eliminating the stigma associated with mental illness. Anyone can become a member or a volunteer. If you want more information you can call 413-786-9139 or email the organization at info@namiwm.org. You can also find more information at www.namiwm.org.
What's so nice about Noho is that you can do anything you want any time you want as long as you're not breaking the law.
The people of Northampton have figured out how to keep crime out by just not letting it in.
Northampton is essentially a crime free, safe and comfortable place that people want to be.
People who live here can go any area they wish, dress as they wish, and just plain be who they wish.
Police and Public Safety Downtown Northampton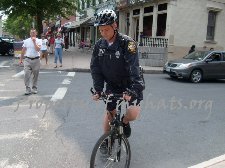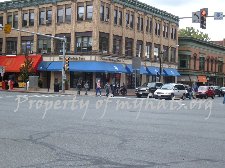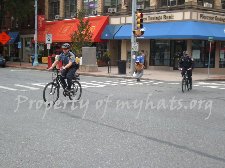 Downtown is always monitored by foot patrol. That's Officer McCarthy (left) and to his right is Officer Jiminez. Both on bike patrol and abiding by the crosswalk laws. I wasn't crossing till I got a pic. Sorry guys you just have to wait! They didn't get to where they were going on time and I got my pic. Sounds fair to me, yep. On bike patrol is Officer Wigmore. Looks like he's stuck there against the curb. That's what happens when you jay bike! It's kinda hard to see in the next pic but that's Officer Netto and Officer McGlaughlin sitting at the pedestrian light. Following the law and waiting for the light? Okay, the light turns white, the people walk and the two Officer's wait for the light to turn orange, which means don't walk. Okay, to be fair, they're not walking. So what are they doing? Oh, It looks like another bike patrol race. You can see Officer Netto in the lead and taking it in stride as he coasts along after just a peddle or two and trailing but peddling hard is Officer McGlaughlin. Hey, he's the newest guy on bike patrol so give him a brake, or a push ;O) Oh this is gonna come back at me! Our bike patrol is the best!
I love to make up stories to go with the pics of our Officer's. The fact is, our town is what it is, awarded "Best Small Arts Town" and in the top 100 year after year because our officer's do an outstanding job. It's not easy to be a cop in Noho. NPD has high standards for it's Officer's and our Officer's keep Noho ranking high!
If you visit Northampton...I guarantee you you will have just as much fun as I do everyday. Noho is the only town I have ever lived in that I never want to leave!
To all our officers of the Northampton Police force...thank you for your dedication and service and for helping to keep this town an enjoyable and safe place.
Pedestrians and Parking Downtown Northampton Hampton Ave.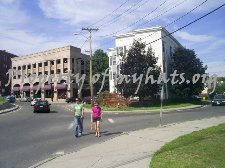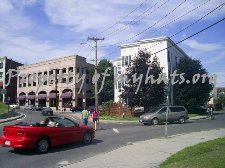 These two ladies are returning from a fun time in downtown Northampton, and as they hit the crosswalk to head home...Boom! they quickly change their mind and their direction for a 30 second walk to the ice cream parlor "Herrell's".
Northampton is all encompassing with everything necessary to fulfill the most insatiable thirst for the ultimate social time! The parking garage is right behind the Ladies. To my right (which of course you can't see) as I take this pic is another large parking lot. Many people worry about coming to Noho, because of parking, well the parking here is way plenty enough! You just need to know how to find it, and it's easy because it's right behind the biggest marketplace in Noho,
"THORNS Market", central main street, right in the heart of Noho!
The parking garage you see in the pic has a walkway right into thorn's market and THORNS is also equipped with an elevator.
Contact: info@myhats.org