"Downtown Northampton 2008-2009"
Northampton has the best police force. Our
officer's have high standards to keep. It's what
makes the NPD so unique. They treat the public
with a great deal of respect. Above is Officer
Jiminez. When this officer got too close I thought
I was gettin' a ticket. Nope, instead I got a great
pic that's missin' a little wheel & a little helmet ;O)

Hotel Northampton & Wiggins Tavern.
Special Jazz Brunch every Sunday!
July thru August
Conveniently located
on the corner of Main Street
in downtown Northampton!

THORNS...the place to go in Noho!!
30 Plus Shops and restaurants inside.
An enormous marketplace!
Find just about anything in the shops
and boutiques or enjoy a great meal!

Northampton NPD's Citizen Police Academy April 21, 2009
"It's the Final Night...Graduation Night for NPD's Citizen Police Academy"
Supervisor
Sgt. Jody Kasper

Captain Koncas, Chief Sienkiewicz, Captain Patenaude

Sgt. Kasper & Chief
Present Certificates
It's the final night for the Citizen Police Academy Class and Graduation Night. Certificate's were awarded. I got the opportunity to get a head shot of the 3 Heads!
Left to right areNPD's Command: Captain of Administration Joseph Koncas, Chief Russell Sienkiewicz and Captain of Operations Kenneth Patenaude.
What's so amazing about these 3 outside of the work they do is that this year they refused a raise in pay due to the current budget that threatens lay-off's for others.
On this final night, the two subjects of focus were the bike patrol and police procedure for traffic stops, both routine and felony. The two instructor's for the bike patrol were Officer Yasutomo on left and Officer Wigmore on right. Appropriately, they are both on the bike patrol. Then Sgt. Cartledge and Officer Barszcz took over to cover the subject of traffic stops both routine and felony. Everything the officer's wear on their belt's was passed around for all to see. Did you know those belt's weigh 22 pounds! Glad I'm not a cop, I'd be calling for assistance after I fell over from the weight. After the instruction on traffic stops, the class got to go outside and two students got in their car and drove a few feet only to be pulled over for a routine traffic stop, and a felony stop. Student's got to see and hear from start to finish exactly how the police handle a routine traffic stop and then, the more serious felony traffic stop which included an arrest of the vehicle operator. At the end of class the student's were awarded certificates and all received T-shirts. So just what is the Citizen Police Academy? Well, it's a free program offered to individual's who are interested in learning more about the field of law enforcement and the actual activities' of the Northampton Police Department. The program is two months long. Classes are scheduled once a week and run for 3 hours each evening. Officer's tell it all and the student's can ask all the questions and get all the answers. The instructor's work as administrators, investigators, street-level supervisors and uniformed patrol officers. All bring their unique experiences and insight to the program. Subjects that are covered are Death Investigation, Domestic Violence, Child Abuse, Crime Scene Services and Sex Crimes. Above is just one pic from Tuesday's final class. The class is held once a year from about the middle of February to the middle of April. If you are interested in being a cop or just want to be better informed then this is the class for you. NPD starts taking applications in December. To apply for the next class, go to www.northamptonpd.com in December 2009. Keep in mind that classroom size is limited. Check back in a few weeks and see more of what I saw and heard at the Citizens Police Academy.
After the demonstration outside for police procedure for traffic stops for both routine and felony, and before the graduation ceremony, students had the chance to hear and see how an arrest is made. Reid Booth, in phase two of his field training demonstrated an arrest. Using a volunteer student from the group, Reid began an arrest from start to finish beginning with instructing the student how to stand and where to place his arms. From why the hands are extended backwards, the hands are cuffed in a specific way and what happens after an arrest is made was explained by Sergeant Kasper as Reid demonstrated an arrest. Reid Booth is new to the force and is in training. Anyone who is interested in becoming a police officer must first go through a 21 week program at the police academy. Once they complete their course, they have to complete field training which consists 3 phases and a final phase. Field training is 14 weeks. The first 3 phases are 14 weeks long and the officer in training must be accompanied by another officer at all times. In phase 1, the officer in training does 25% of the work, phase 2 increases to 50% and phase 3 requires them to do 75% of the work involved in answering a cal and the paperwork that follows. The final phase is 2 weeks long. During this period, the officer in training is accompanied by an officer in plain clothes to answer all calls. The officer in plain clothes is there just to observe and only intervenes if he sees that the officer in training is either violating a person's civil rights or making a bad arrest. During the 14 weeks, the officer in training is hired by NPD, and in order to remain hired, the officer must pass their field training. After 21 weeks of police academy class stress, there's 14 more. It's the final stress for those in training.
If you are interested in Police Work you can to to northamptonpd.com and find more details. Good Luck Reid!
I love to make up stories to go with the pics of our Officer's. The fact is, our town is what it is, awarded "Best Small Arts Town" and in the top 100 year after year because our officer's do an outstanding job. It's not easy to be a cop in Noho. NPD has high standards for it's Officer's and our Officer's keep Noho ranking high. Above is what our Officer's really do and below is what I make up with my little sense of humor imagination. Our Officer's are nothing but professional on the job.
Downtown Northampton NPD Runner Ups to Pic of Year
"1st Runner Up for 2008...The Dunkin' Donuts Disguise...Gone Wrong"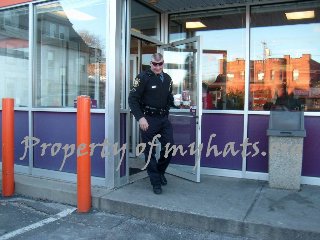 Tied for Pic of Year and awarded 1st runner up is Officer McCarthy with "The Dunkin' Donuts Disguise"...gone wrong. Some try to make a fast get-away to avoid being caught by my cam loaded with fully charged batteries while others resort to a simple disguise, like dark sunglasses. When officer McCarthy exits Dunkin' Donuts, he usually hides behind dark sunglasses, but today, he forgot to put the glasses down after he finished paying. Using one hand to open the door and the other to hold the treasured caffeine, he doesn't get time to put the glasses down so he puts his head down. Just not workin' for me. What do you think?
| | | |
| --- | --- | --- |
| 2nd Runner Up...Dunkin' Donuts Snowmocruiser | | 3rd Runner-Up...The Jaywalking Cop |
| | | |
| --- | --- | --- |
| | | |
| | | | |
| --- | --- | --- | --- |
| It's a blizzard but no worries for Officer Satkowski of the NPD. Today he's driving the specially designed Snowmocruiser. The back tires have special heavy duty chains and a GPS that's set to navigate only to Dunkin' Donuts. It's only taken out in severe weather conditions. This specially designed cruiser serves to insure the officer's a safe trip back and forth without the risk of spilling their coffee. A tap on the gas pedal signals skis to auto eject and slide under the front tires. It's kinda like a Snowmobile only it's not. Snow, Sleet, Hail etc., etc., the NPD will get their coffee. | | | Northampton is know for being a unique town and while every town or city has a police force, not every town/city has a unique member of their police force like our little city. That's right, NPD has one cop who has single handedly earned the title "The Jaywalking Cop". That cop is none other than Officer "D'Zailo". He just can't stay in between the lines and he never gets a ticket. As you can see above, people pass by and turn their heads, but no one is willing to follow in his foot steps not even his own! |
Downtown Northampton NPD Honorable Mention?
"The 2008 Honorable Mention...Or Perhaps...Dis-Honorable Mention?"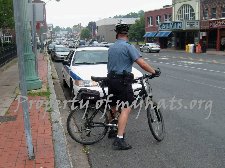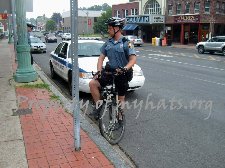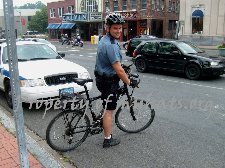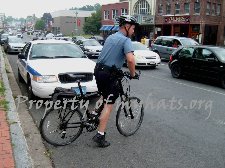 It' usually one pic that's chosen for Pic of Year but this "in the running for Pic of Year" required a series of 4 pics so you could get the full picture. When the cops GPS goes down it's not uncommon to see unusual behavior like you see above. In the first pic, Officer Wigmore is so lost he is driving into one of his colleagues who is also lost and sitting on the side of the street. In the second pic, the foot patrol, seeing this show from a distance, steps in to assist them so they can move on and do some work. As the officer works with the disabled cruiser, Officer Wigmore waits patiently. In the third pic, Wigmore spots the cam, smiles and says he's not lost and doesn't need a GPS to find his way. As you can see, in the fourth pic he's proving he thinks he knows his way. Now the risk of him hitting the cruiser is over, but what about the car he's about to drive into? Well, as you notice, they're all men, even the cop in the cruiser and it's a fact proven by scan studies that men never ask for directions when they get lost because they don't even know their lost. It's true. Have you ever driven around in circles with a male driver and asked him to stop for directions and he insists he's not lost? Yep, we all have. Proven by scan studies, the part of the brain that lets a person know they're lost, is absent in men. So what you see above is normal behavior for men when their GPS goes on the blink. Hey NPD, next time this happens, send in the female officers!
Downtown Northampton 2007 Pic of Year
"Dunkin' Donuts...First Aid"
NPD's 2007 pic of the year! They were getting ragged on for too much time at Dunkin Donuts so they came up with a great solution. Check it out! They're filling their trunk with a week's supply of coffee & donuts. The red bag they're filling up is so appropriately labelled "First Aid"! Caught them in action. The pic to the right is the hard evidence as proof! Secret's no good with me and yep... now the whole world knows.
Sorry guys! I'm a mandated reporter. The taxpayer's have the right to know!
What's so nice about Noho is that you can do anything you want any time you want as long as you're not breaking the law.
The people of Northampton have figured out how to keep crime out by just not letting it in.
Northampton is essentially a crime free, safe and comfortable place that people want to be.
People who live here can go any area they wish, dress as they wish, and just plain be who they wish.
Police and Public Safety Downtown Northampton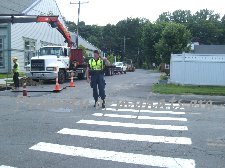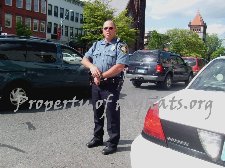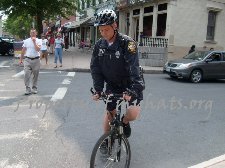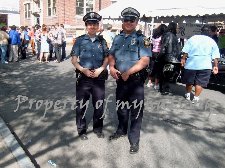 Downtown is always monitored by foot patrol. Today Officer McCarthy is off the Main and it looks like he's patrolling gas. Looks like he's waving on cars, but do you see any cars? Nope, he's actually fanning away the smell of gas. He says it's from the hole you see those gas men in, but it looks like he's fanning himself there. Officer Allard is set up at the crosswalk in the center of town. He's checking for expired registrations and inspection stickers. But check it out, he's looking at me and it's looking like he's going to point the finger at me. Hey, I'm not expired. Maybe it's my shoe. The right shoe didn't pass the nickel or dime test for tread. Yep, that was it. "Honest, I promise to get the shoe fixed, if you let me go with just a warning". Phew, he let me off without a ticket. Gonna have to find a way to dodge him till he forgets my face. Today I learned you should never let Highway Safety see you walking in circles. On bike patrol is Officer Wigmore. Looks like he's stuck there against the curb. That's what happens when you jay bike! Last pic, I got 2 officer's in 1 shot. Makin' my job easier, less walking and it saves on my batteries. There was a big public event May 2 and it was well patrolled by the foot patrol. On left is Officer Yasutomo, and to her right is Officer McGlauflin.
I love to make up stories to go with the pics of our Officer's. The fact is, our town is what it is, awarded "Best Small Arts Town" and in the top 100 year after year because our officer's do an outstanding job. It's not easy to be a cop in Noho. NPD has high standards for it's Officer's and our Officer's keep Noho ranking high!
If you visit Northampton...I guarantee you you will have just as much fun as I do everyday. Noho is the only town I have ever lived in that I never want to leave!
To all our officers of the Northampton Police force...thank you for your dedication and service and for helping to keep this town an enjoyable and safe place.
Pedestrians and Parking Downtown Northampton Hampton Ave.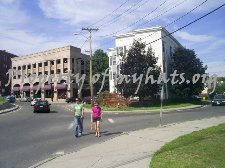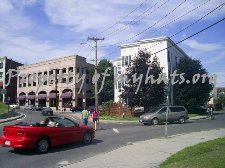 These two ladies are returning from a fun time in downtown Northampton, and as they hit the crosswalk to head home...Boom! they quickly change their mind and their direction for a 30 second walk to the ice cream parlor "Herrell's".
Northampton is all encompassing with everything necessary to fulfill the most insatiable thirst for the ultimate social time! The parking garage is right behind the Ladies. To my right (which of course you can't see) as I take this pic is another large parking lot. Many people worry about coming to Noho, because of parking, well the parking here is way plenty enough! You just need to know how to find it, and it's easy because it's right behind the biggest marketplace in Noho,
"THORNS Market", central main street, right in the heart of Noho!
The parking garage you see in the pic has a walkway right into thorn's market and THORNS is also equipped with an elevator.
Contact: info@myhats.org