"Downtown Northampton 2008"
Northampton has the best police force. Our
officer's have high standards to keep. It's what
makes the NPD so unique. Sgt. Cartledge is
on patrol with a gazillion other's as Mel Gibson
is filming here. If you get too close or stand in
middle of the road, like me, you get redirected!

Hotel Northampton & Wiggins Tavern.
Every Sunday is Sunday Brunch
the food is great!
Conveniently located on the corner of
Main Street, downtown Northampton!

THORNS...the place to go in Noho!!
30 Plus Shops and restaurants inside.
An enormous marketplace!
Find just about anything in the shops
and boutiques or enjoy a great meal!

Downtown Northampton Oct 29, 2008
"How Did the Filming of "Edge of Darkness" Happen Out in Noho?...An Interview with NPD'S Captain"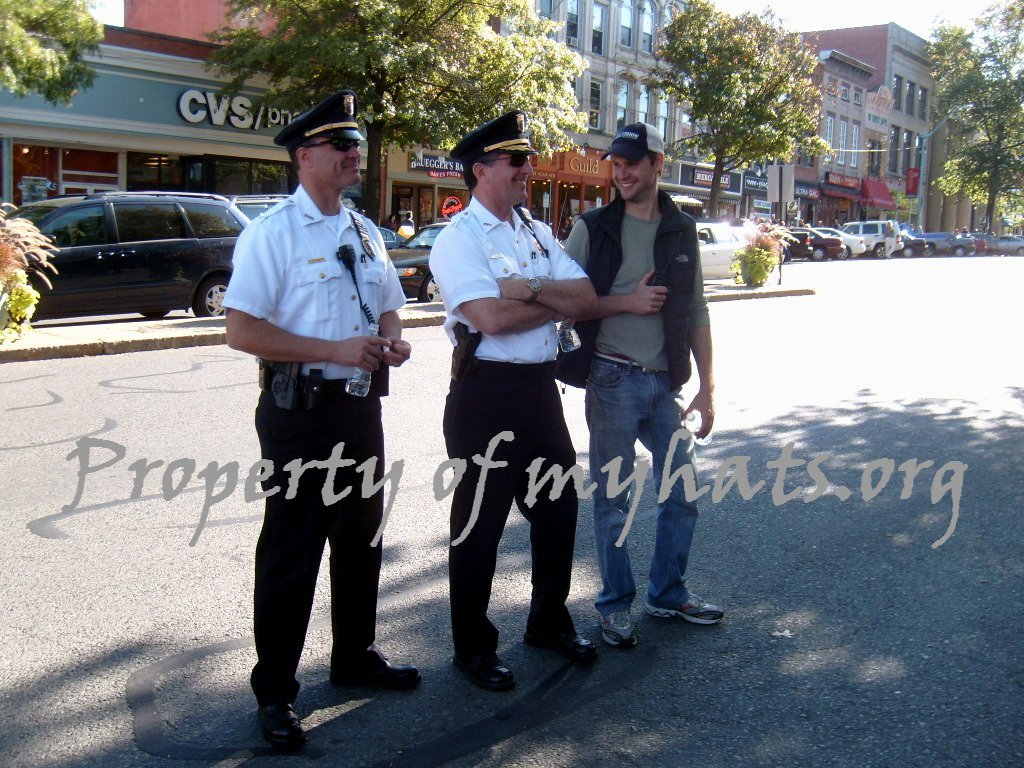 Wednesday October 29th, my request for an interview with Captain Kenneth Patenaude was honored. I wanted to get the details on how this all came to happen here in Northampton. It was way back in June that GK films contacted our mayor looking to shoot "Edge of Darkness" here in Noho. The mayor welcomed the idea and asked GK films to contact Northampton Police Department to coordinate the event. You see they wanted to film right smack in the center of Noho, not an easy undertaking by any means. With their expertise, the NPD coordinated the filming's of "Malice" and "Cider House Rules" with ease, but this time they wanted to film right in the heart of the busy downtown. This posed a real challenge for the NPD, but according to the Captain Patenaude, it was a welcomed one. Noho, the city that most refer to as a town because it's so small, has a bigger than big reputation and for that reason, the downtown area is always congested with traffic and pedestrians both residents and visitors. Needless to say, it's a balancing act before adding anything to it. In June Captain Koncas took the call and requested an outline of the plot. Upon returning from vacation, Kenneth Patenaude, Captain of Operations returned to get the outline and gear up to make it happen. In September, the Location Scout Jason Fritz and the Location Manager for GK Films contacted the NPD to set up a meeting. Why Northampton? Mark Fitzgerald the Location Manager recommended Noho because he was involved with the filming of "Cider House Rules" here in Noho and was familiar with this area and thought it to be "film friendly". In September Mark and Jason met with Captain Kenneth Patenaude, gave a brief synopsis and discussed details of the traffic and pedestrian control as well as consideration for the businesses that may be inconvenienced. Signs for traffic delays were provided by GK films at the request of the Captain and were put in place a week in advance. The film company's routine was back of the hand while the work to coordinate and make the filming run smoothly rested on the the shoulders of the Captain. Scheduling was the biggest task at hand. Over 300 police hours were spread between15 officers, a Sergeant, a Lieutenant and the Captain. The scheduling was done, everything was in place, good to go or so it seemed. It was Sunday afternoon, the filming was to start on Monday when a call from GK films called for a flip-flop of Tuesday & Wednesday. So the Captain had to sit down and completely reschedule. It took an extra 5 hours. Next, Head of parking Bill Letendre covered the meters with pre-paid bags. Monday came and the town was in order, but in a different order and would stay that way until the filming ended on Wednesday. All the officer's were equipped with radio communication. The Associate Director communicated every move to Captain Kenneth Patenaude (above pic middle). Lieutenant Scott Savino, (above pic left) sent the move by move commands to the officer's by radio. The Captain's main concern was that the filming was executed with the least inconvenience to the public, all inclusive, the motorists, pedestrian's and businesses. Some good news for all you taxpayer's out there with concerns over money spent was that GK films paid for the meter bags and all the officer's hours! I asked Captain Patenaude what was the hardest challenge he had in all this and he said, "It was when they called me the day before the event and asked me to flip-flop Tuesday with Wednesday". If you've ever done scheduling, you know the work that goes into it. I also asked if there were any major problems he was faced with and he said, "Yes, it was when they asked us for more traffic and well...if there were no cars...what could I do"? It all went smoothly and the NPD made it look effortless.
Downtown Northampton Oct 8, 2008
"Mel Gibson is in Northampton filming "Edge Of Darkness"...Last Day Filming in Downtown"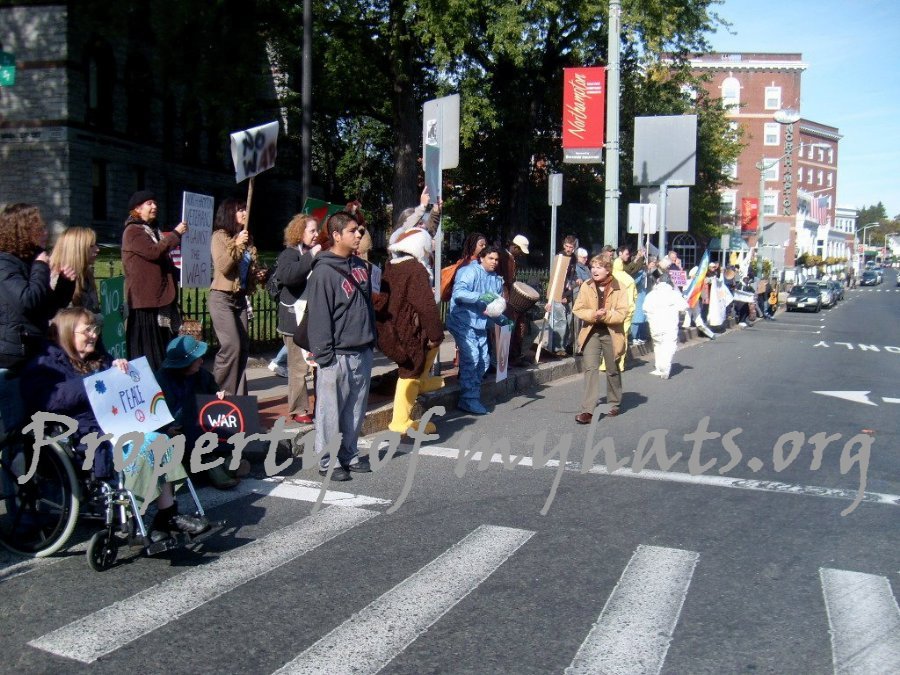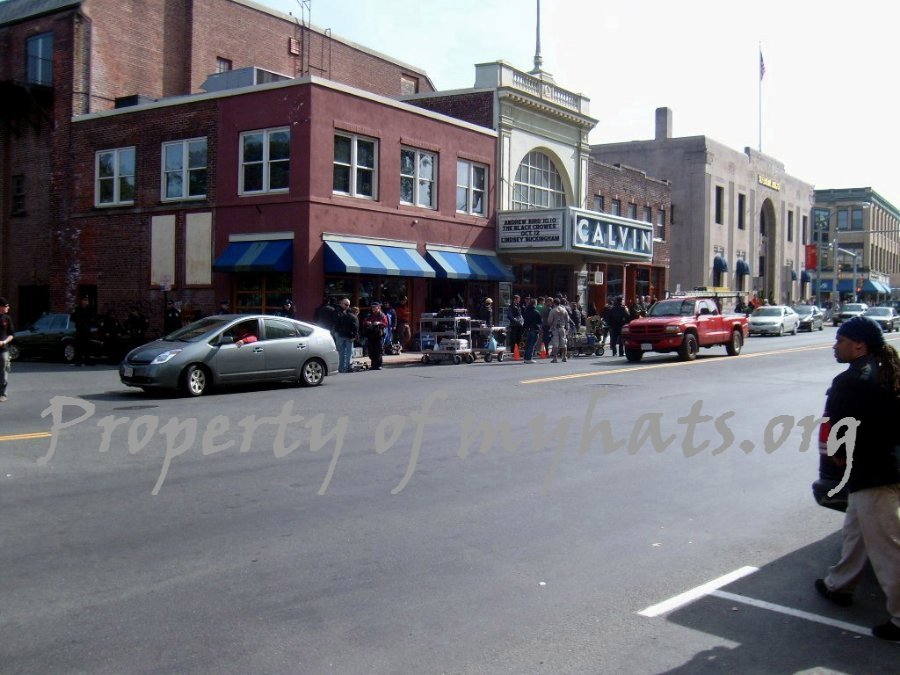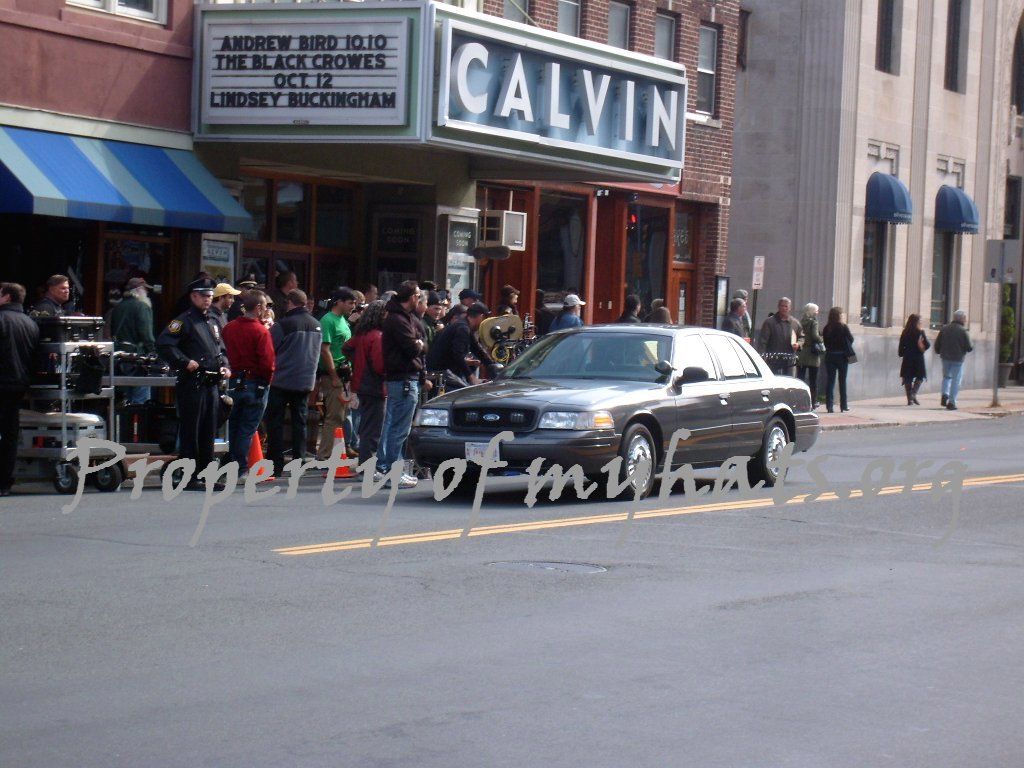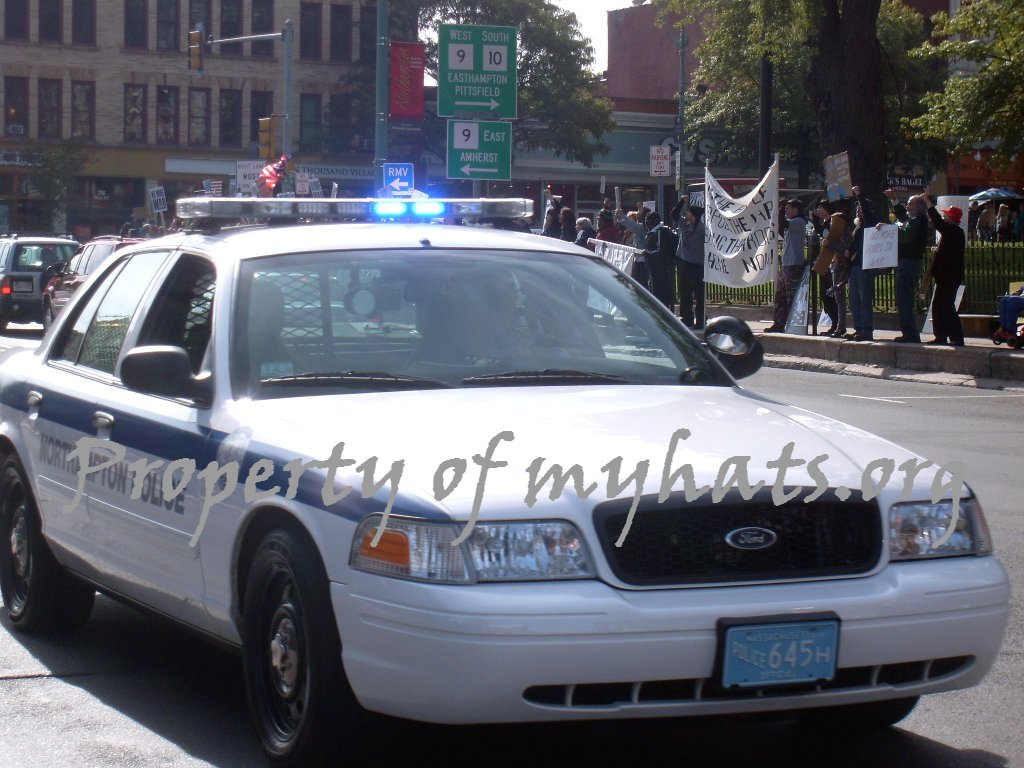 Wednesday began with the "Mel Gibson drives down the street scene". The town was prepared for a large crowd of extra people that weren't extras in the film as "stay behind those orange cones" were everywhere. A ton of people came out to see this scene. On the side opposite where Gibson was to turn the corner at the Calvin there was a crowd of protesters ready to protest when Gibson rounded the corner. Across the street in front of the Calvin the sidewalk was lined with the extras and extra crew with extra cameras to capture every angle. First the Northampton Detective's car drove through and close behind was the NPD.
As Mel Gibson rounded the corner, the protester's began shouting "No More War!...No More War!" Sitting in a chair on the end in the second picture is Noho's Phyllis. Phyllis is 96 years old and there isn't even as much as one neurotransmitter in her brain that doesn't fire with 100% accuracy. Phyllis has been all around the world and has years of experience protesting. From behind you can see Mel Gibson's car as he passes by with the film crew smack right in front of him on the back of a truck loaded with cameras. He drove down the street, turned the corner and came down the side street and across the intersection. That's him right there and if you check the light to his side, "It's green!!" My favorite actor runs red lights. Maybe it's part of the movie, it is, I know it is, it has to be, uh huh yep that's it.
There they go for their last run and here they are where they started and yep, it looks like that's it for the drive around downtown scene as they dismantle, unhitch and move on to the next location for filming the next scene. After walking all around the square to get to the "front of the court scene", as luck would have it, there they are again, crew, cop and those dreaded orange cones. That's Officer Borowski and he's not giving in to the crowd. Next shoot is in front of court entrance.
If you look to the left of the guy in the green shirt, thanks to zoom technology, you can see Mel Gibson in the tan trench coat. Next, is he signing autographs! Oh I don't think so but there he is mingling or whatever. I walked over to the side to get a closer shot of Mel Gibson sitting. Hey, what's up? Now Officer Borowski is shifting us to the left. That's how most of our time was spent today. We were shifting left, shifting right, moving back. Never did I hear anyone say move closer!
Well this move was okay as the Officer was moving us to the left so Mel Gibson could leave. Not okay that he was leaving, but I got to get a pic of him leaving. Yep, he's in that shiny black vehicle and you can't see him...gotta use your imagination this time. Next the carts were rolling. Hey wait...come back...come back. Oh they're not listening. Maybe they can't hear? I caught up with them and they told me they're packing up, yep all done in Noho. Thanks for the pic & the fun!
Downtown Northampton Oct 7, 2008
"Mel Gibson is in Northampton filming "Edge Of Darkness"...Filming outside in Downtown Today"
"Edge of Darkness" center's on a veteran cop Thomas Craven (Mel Gibson), whose only grown up child Emma (Bojana Novakovic), is murdered on the steps of his home. Thomas Craven unearths his daughter's secret life and discovers a world of corporate cover-ups and government collusion. Bennet (Danny Huston) plays the role of a shady businessman while Burnham (Shawn Roberts) will play the role of the daughter's distraught boyfriend. It's a Drama/Thriller
This is what the set looked like from a distance this morning. It was hours of set up before they were ready to film. Across the street to the left of the building was a crowd of people pressing against a line of orange cones. That's as close as you could get. I walked across the street and got put behind the cones too. As you can see...yep...now I am behind Officer Wigmore. To the left of him is a line of cones. That's the path you could walk before filming began if you needed to go by.
Check it out. They set the cones up in a wavy pattern so if you couldn't walk a straight line, today was your "you get a break from the law day". With so many police in the immediate area, the next man through wasn't taking any chances and walks a perfect straight line through the wavy pattern. Hey, never know it could be a set up. And looky to his left. That there lady isn't behind the cones and she's getting an interview to boot. I guess you had to have a camera that said News on it to break the rules. Someone told me she was interviewing the Director. Well the Director of this film is Martin Campbell. Does that look like Martin Campbell to you? Let me know if you know. The other options are one of the Producer's, Graham King or Michael Wearing or one the Screen play's, William Monahan or Andrew Bovelle. The other options are anyone else outside of those mentioned! You can see the crew at work setting up for filming. It was fun to watch. Now another Officer, Officer Nichols pushes us back further! These guys are everywhere and they're not taking bribes today. Had enough, I'm going across the street.
Here's a shot from the front, well almost. Can't go any further down the street because it's only for extras and look who followed me across the street...yep...it's Officer Nichols and he's adamant on "no bribes". The people there to his right are not extra's and you can see by their faces just how exciting this event was for the public. Next is Pat and as we were talking, in the middle of the road, of course, along comes the crew to move us on. The crew was super nice to all. This guy let me get a pic of Pat. Why would I want a pic? I mean she's not in the film, but...her daughter is and she's in the crowd in the last pic. Mom just wanted a pic.
The last detail to the set. The crew installs the screen and as the screen is set in place it's "Camera's Rolling" and out the door comes what appears to be Mel Gibson in a tan trench coat. Everyone around me was clicking away with their cam's and...hold it...that's not Mel Gibson but he looked just like him and that's because it was his double. So we waited and a few takes later, here comes Mel Gibson down the stairs and as luck would have it, a dumpster truck towing a big way huge whatever it is big enough to leave a little slit just big enough to get a real tacky pic. Talk about timing being impeccable! Did someone plan this? Okay, not cuttin' it. It appears the deal is, wait patiently and hope Mel Gibson comes down the stairs when the bumper to bumper traffic consists of short compact cars.
And patience paid off ! A simultaneous instant answers the prayers of the anxiety ridden shutter bugs as compact cars line the street and Mel Gibson accompanied by his attorney exit the building. A dash to my right yields a closer..."double"? Around the side of the building where this group is heading there waits one of our own officers, Officer Yasutomo. She's an extra in the film. As they cut and Mel Gibson heads back for another shoot, this curious motorist forgets he's driving!
After filming from the front of the court exit, the crew rolls down the street to film from a second angle. Huge white screens were set up and I was all set to get a pic when Officer Nichols who believed that public safety was more important then letting me get a good pic of Mel Gibson, stepped right smack in front me. I hate when that happens! Move on officer...move on! Finally he did and I got myself a pic, but too far away I was and so I headed across the street for a closer shot.
Heading across the street, looks like Officer Nichols beat me there and Officer Borowski isn't letting anyone past those orange cones. A look up the street shows just some of the equipment and there was rolling cart after carts and camera after camera's rolling. The next pic is after the cut and you can see the back of Mel Gibson's attorney with Mel Gibson in front of him as they head back to do it again. I managed a pic of the attorney with Mel Gibson right behind him bflore the crew directs us back across the street. The hardest part was to try to figure out who the extra's were and just where you could stand. It was so exciting to watch.
And it looks like they will be back tomorrow. More delays and limited parking Wednesday October 8. Check back to see more pics. Tomorrow Mel Gibson will be driving down the streets of Northampton around the corner and by the court where a protest is taking place. It's going to be a great movie for sure! A must see! "Edge Of Darkness"
Downtown Northampton Oct 6, 2008
"Mel Gibson is in Northampton filming "Edge Of Darkness"..Or is he?...Or Where is he?"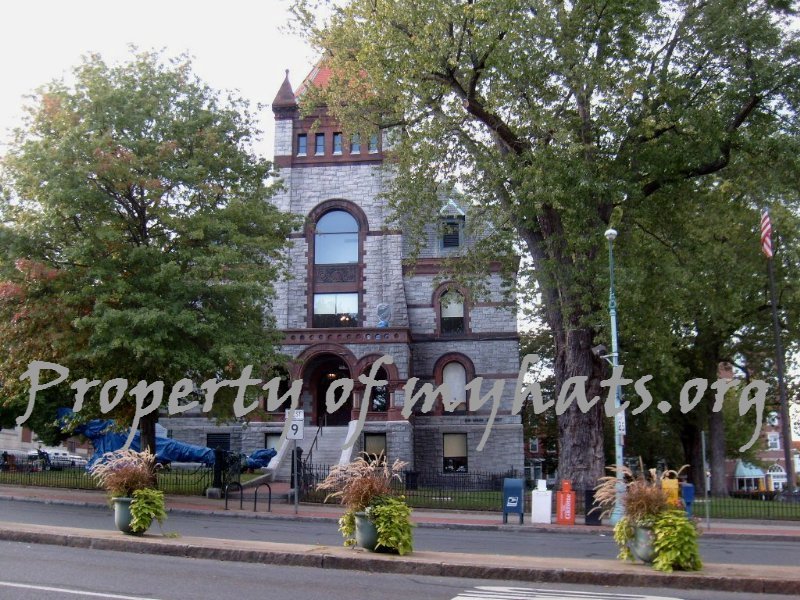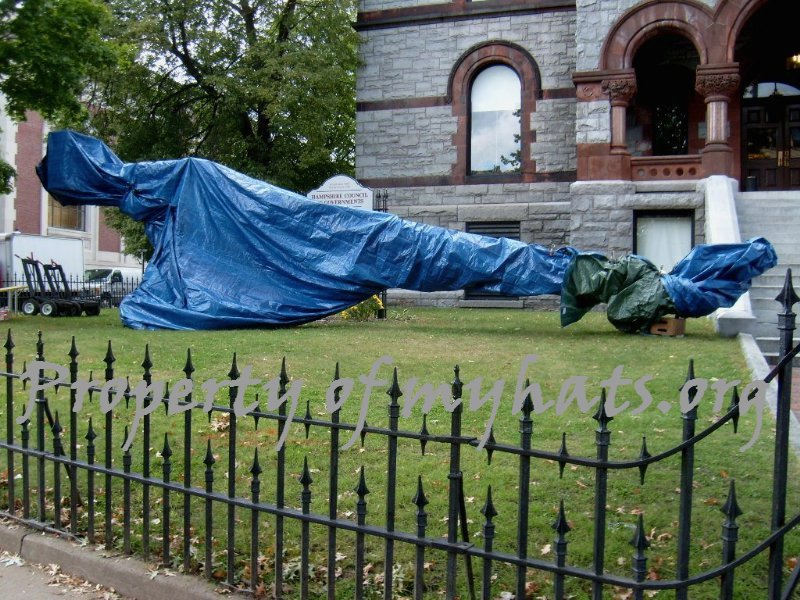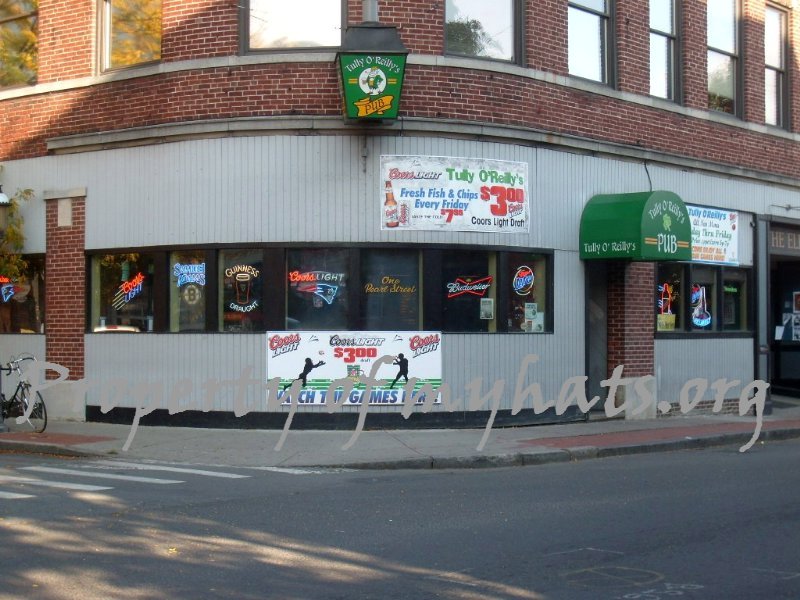 Well Mel Gibson is supposed to be here Oct 6th-8th. I haven't seen him yet but that whatever it is wrapped up in a blue tarp looks like it might be waiting for a film crew. If anyone knows what that is you can email & tell me and you get to be right! Over to the right, it looks like the squirrels have the news as they stuff their cheeks. They already have the order to stay in the trees when Mel gets here. Nobody will get to get close up except the crew, the extra's & the actor's. Okay, I lied, add a ton of police. So where's Mel? He's over at Tulley O' Reilly's. That's where the first scene was filmed. Mel Gibson is inside the bar when he gets the news over the bar's TV wired specially for the scene. What news? Gonna have to see the film to find out! Check back for way much more & pics of Mel Gibson.
Downtown Northampton Oct 4, 2008
"Edge Of Darkness" Stars Mel Gibson, Danny Huston, Shawn Roberts, Bojana Novakovic & Wayne Duvall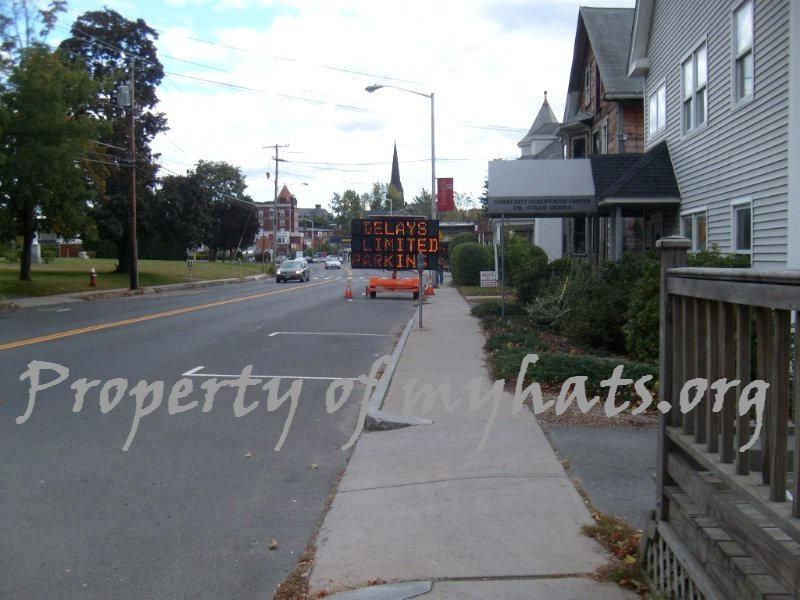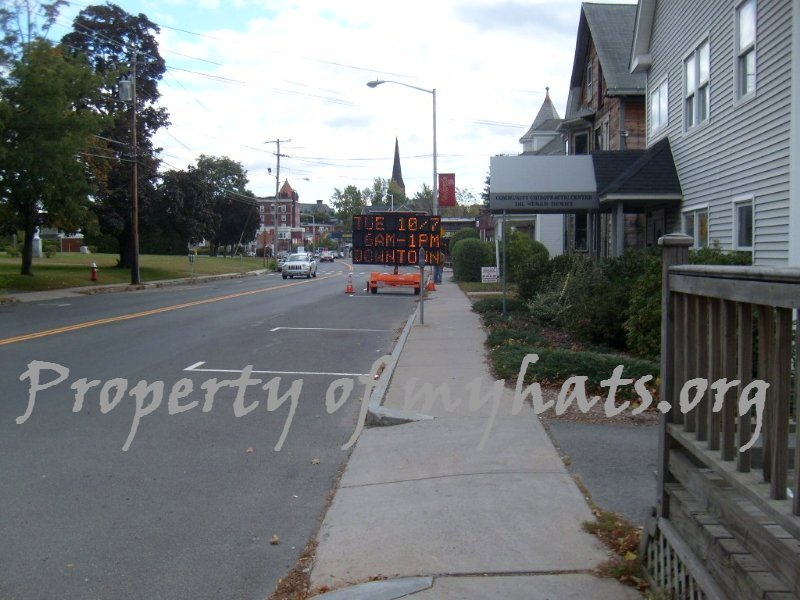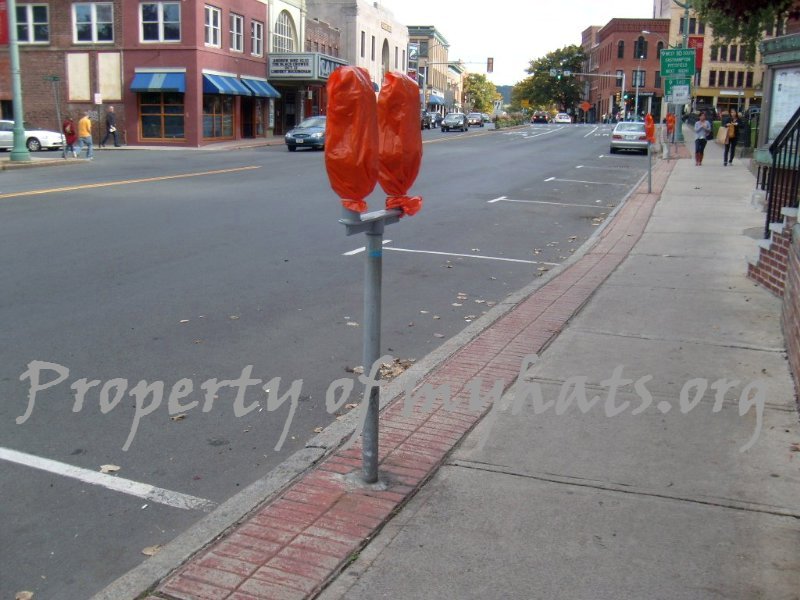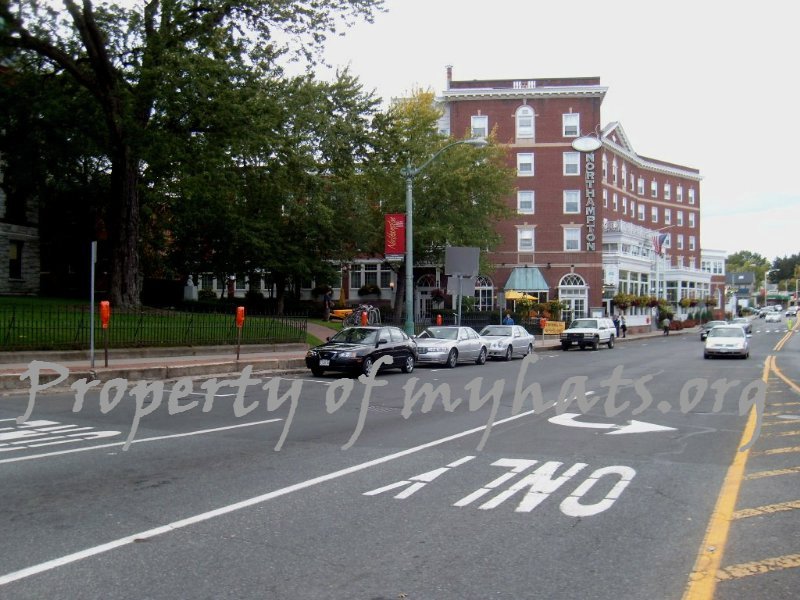 Delays...Limited Parking? That's right Tuesday Oct 7, 6AM-1PM Downtown. The town has prepared well in advance for the the filming of..."Edge Of Darkness" at the Hampshire Council of Government building this coming Tuesday. Here's what the meter's look like up close and from a distance you can see all the meter's lining the streets adjacent to the building are covered. Thinking about coming to Noho to catch a glimpse of Mel Brooks and the cast? Well, think about parking and walking if these are your plans. The area will also be blocked off. You can watch them film but you're not going to be able to get too close-up for glimpsing. And that there sign that said Tues Oct 7 now says Wed Oct 8, 6AM -1PM. Looks like they are here 2 more days. Tues inside and Wed outside courthouse?
The crew from Local 481 the Studio Mechanics of New England were getting the grounds ready replacing spots on the green with greener green, power washing the steps and applying a shiny new coat to the door where the cast will exit and film on the steps. The crew is not allowed to interview with anyone, but I did get some great pics and I got to say hello. They were having a great time and it's going to be a great time for everyone here and people who visit Noho to watch.
They finish up with power washing the brick walkway. Where's the camera? Right up there protected in a plastic wrap. Since we're expecting rain they decided to film on Tuesday instead of Monday. Everyone had to get a peek. Yep, even the Officer's couldn't resist looking on as the crew worked. The Officer's told me the whole area would be blocked off to the public, but there's always across the street. Calvin Cooledge will be the only acception, but you don't want his seat!
Downtown Northampton Aug 4, 2008
"Edge Of Darkness" Starring Mel Gibson finishes filming in Noho"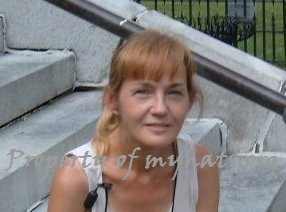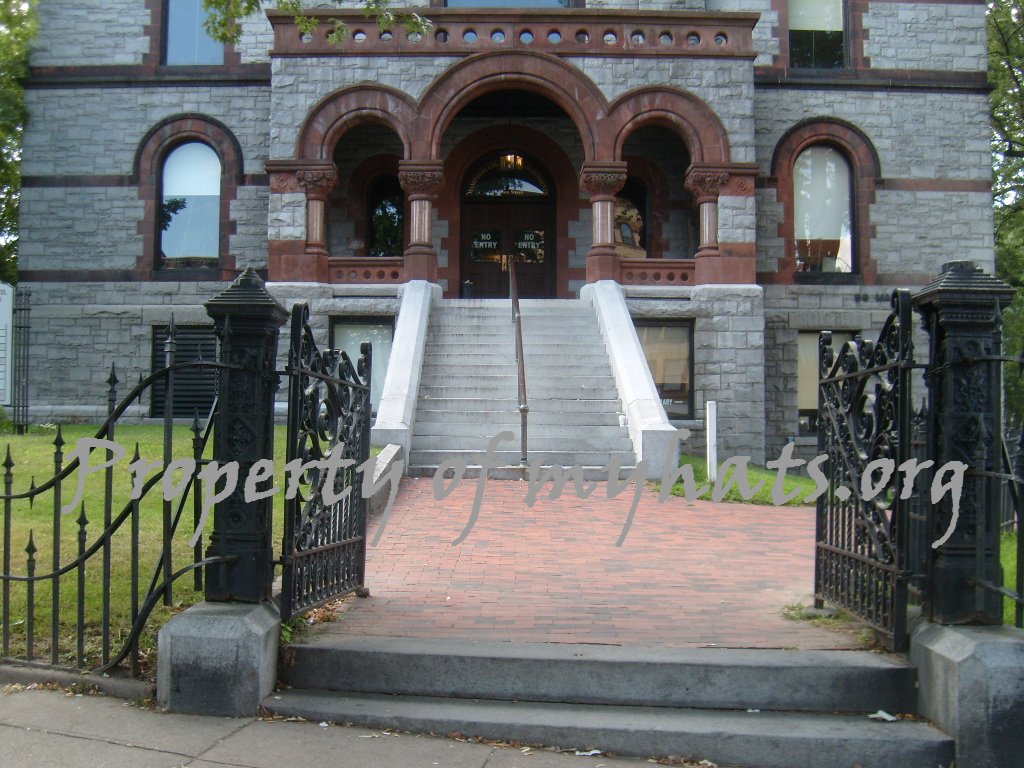 Today I'm sitting on my every day not so cozy cement steps...soon they'll become cozy, to the eye that is because in a few weeks they'll be Stairs for Stars! Read below to see how you can get in on the film before it comes to the theaters. Yes, that's right. They need lot's of extra's to finish this film here in Noho!
What's so nice about Noho is that you can do anything you want any time you want as long as you're not breaking the law.
The people of Northampton have figured out how to keep crime out by just not letting it in.
Northampton is essentially a crime free, safe and comfortable place that people want to be.
People who live here can go any area they wish, dress as they wish, and just plain be who they wish.
Police and Public Safety Downtown Northampton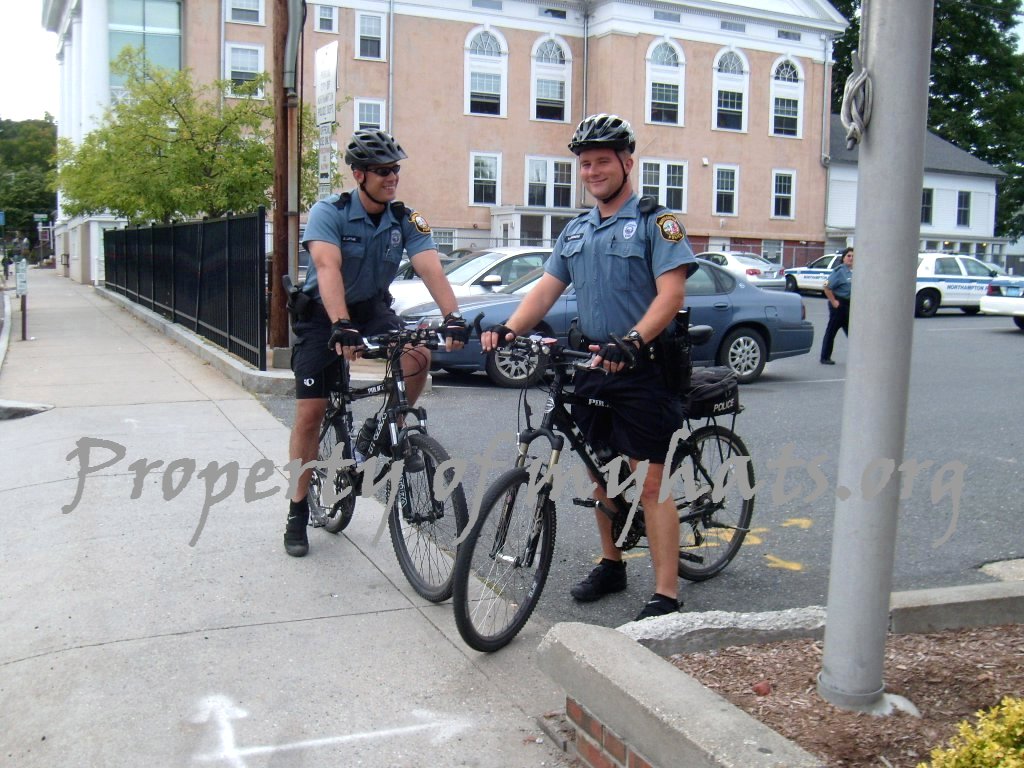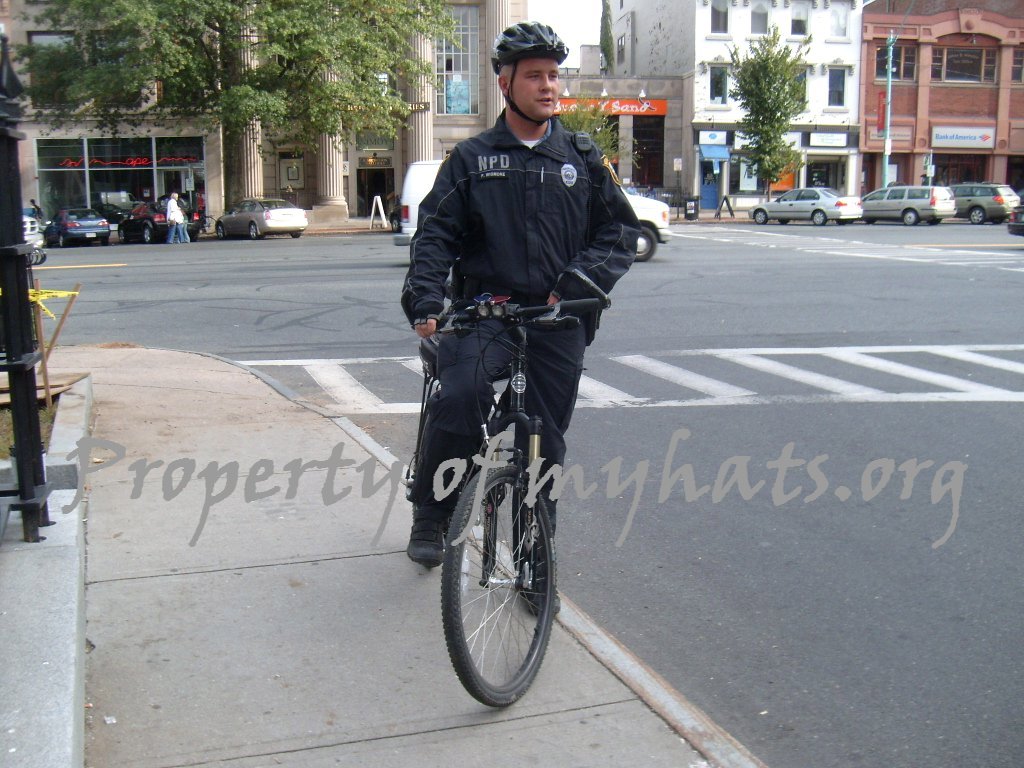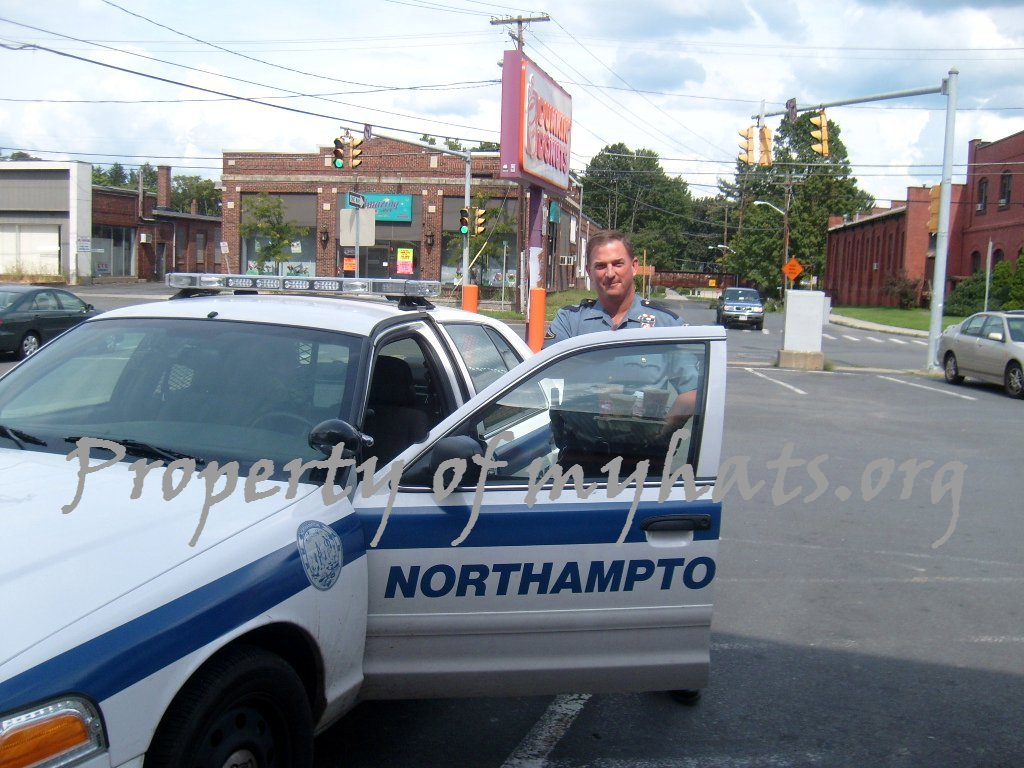 Downtown is always monitored by foot patrol. While there are no fences around the town, it's one of the safest towns to reside or visit. Our great public safety is to thank. While our officer's keep to the high standards demand of their job, at the same time they'll take time when an innocent bystander, (that would be me) armed with a camera, by chance, passes by and wants a pic with a smile. Or could it be I caught them goofing off? Well, check it out. Do you see any peddle to the sneaker there? In harmony with the responsible taxpayer's duties, I am mandated to blow their cover, that's Officer Liptak on the left and Officer Wigmore on the right. Now if you too are a responsible taxpayer...or the Chief, you got the evidence and you know what to do. Next, Officer Wigmore is on bike patrol. Yep that's him again, still sitting only now he's got a coat on. Same difference huh. Kinda like six to one a half dozen to the other. Moving on, that's Officer Nichols trying to hide a full tray of coffee behind his patrol car window (It didn't work...I can still see you). Where there's coffee, there's Officer Nichols. He takes his coffee calls very seriously, so seriously he alway's carry's a gun when answering caffiene calls. Don't wanna mess with him when he's getting coffee. In the last pic is Officer Borowski. He's doing double time to cover while Officer Nichol's is busy at Dunkin' Donuts and Liptak & Wigmore make sure their bike's don't fall over and get scratched. Officer Bowrowski is patrolling the sidewalks during the sidewalks sales, but no shopping for him. Don't think I want that job! The bike patrol works with the foot patrol to cover the busy downtown.
If you visit Northampton...I guarantee you you will have just as much fun as I do everyday. Noho is the only town I have ever lived in that I never want to leave!
To all our officers of the Northampton Police force...thank you for your dedication and service and for helping to keep this town an enjoyable and safe place.
Pedestrians and Parking Downtown Northampton Hampton Ave.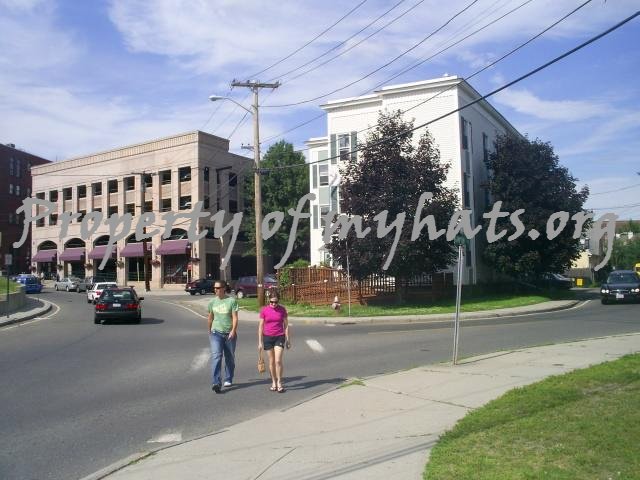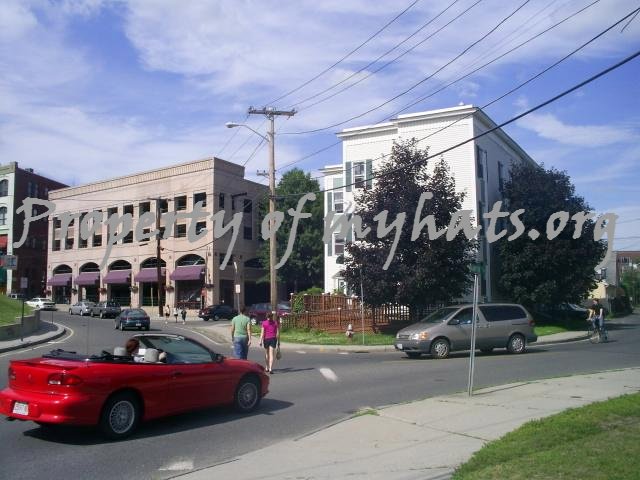 These two ladies are returning from a fun time in downtown Northampton, and as they hit the crosswalk to head home...Boom! they quickly change their mind and their direction for a 30 second walk to the ice cream parlor "Herrell's".
Northampton is all encompassing with everything necessary to fulfill the most insatiable thirst for the ultimate social time! The parking garage is right behind the Ladies. To my right (which of course you can't see) as I take this pic is another large parking lot. Many people worry about coming to Noho, because of parking, well the parking here is way plenty enough! You just need to know how to find it, and it's easy because it's right behind the biggest marketplace in Noho,
"THORNS Market", central main street, right in the heart of Noho!
The parking garage you see in the pic has a walkway right into thorn's market and THORNS is also equipped with an elevator.
Contact: info@myhats.org